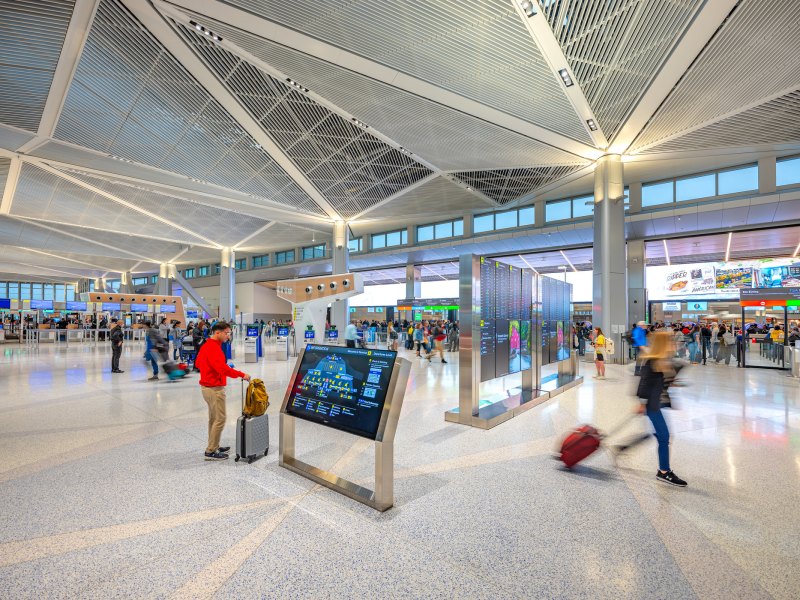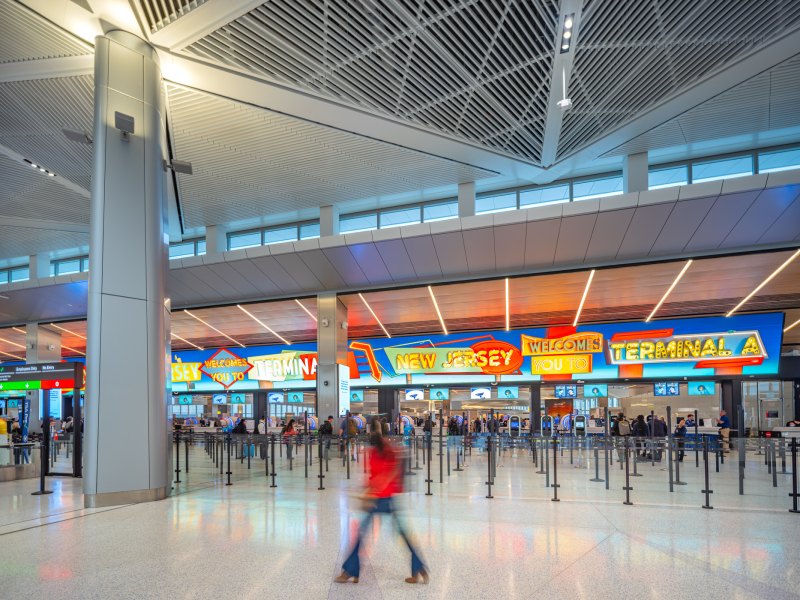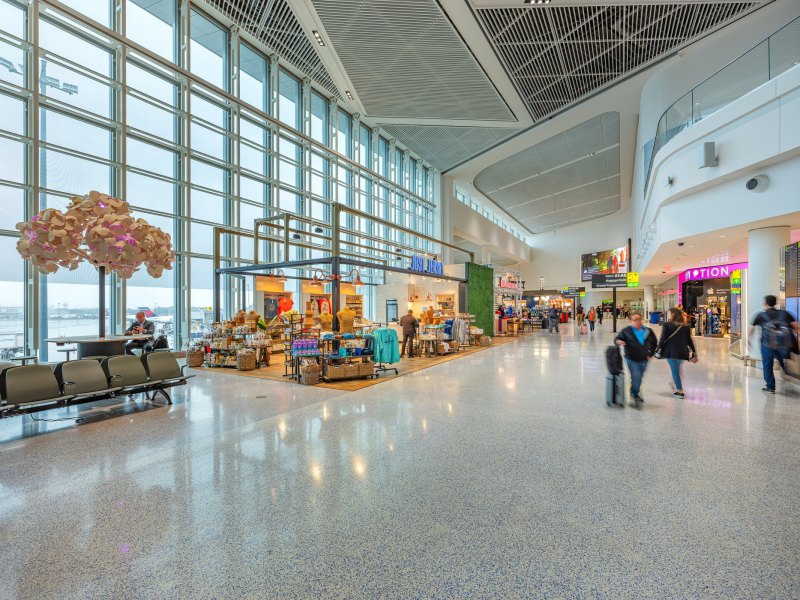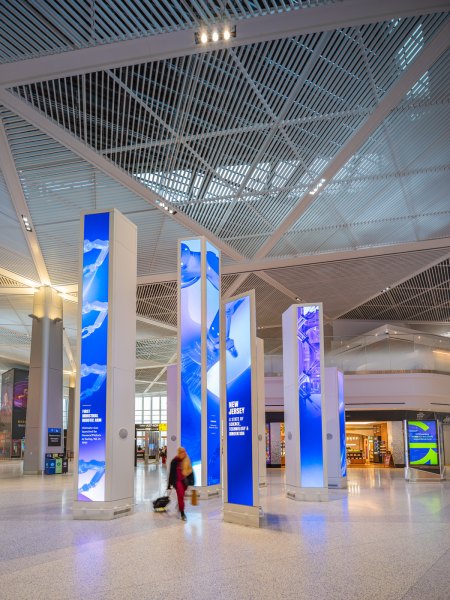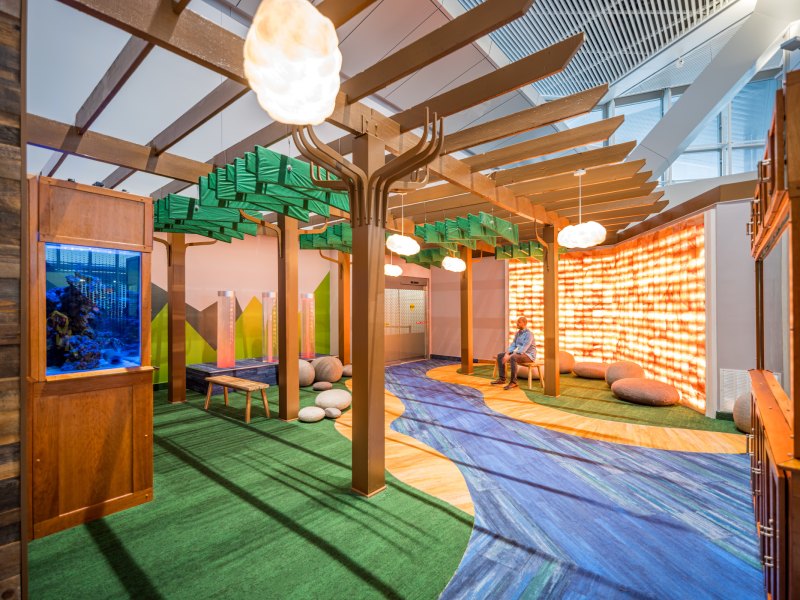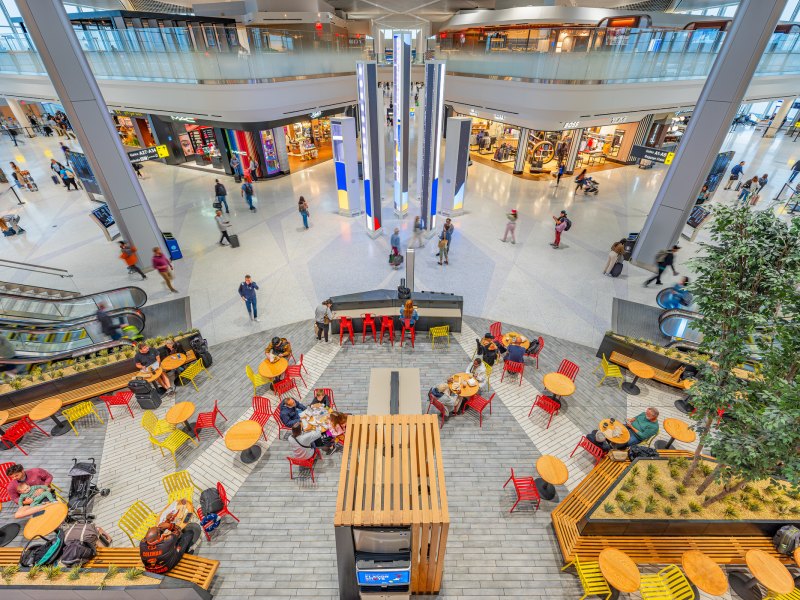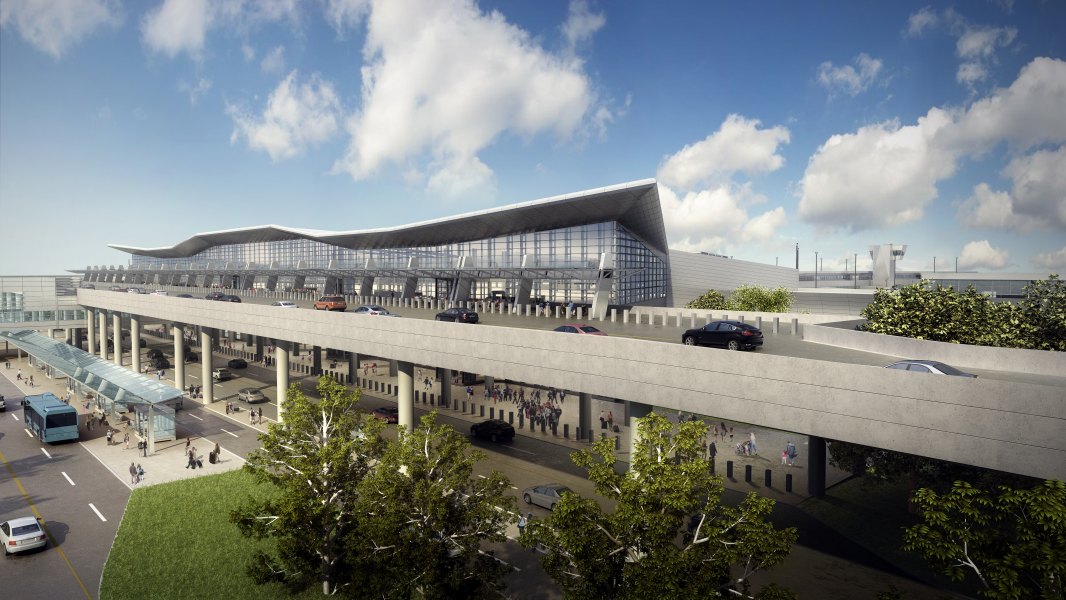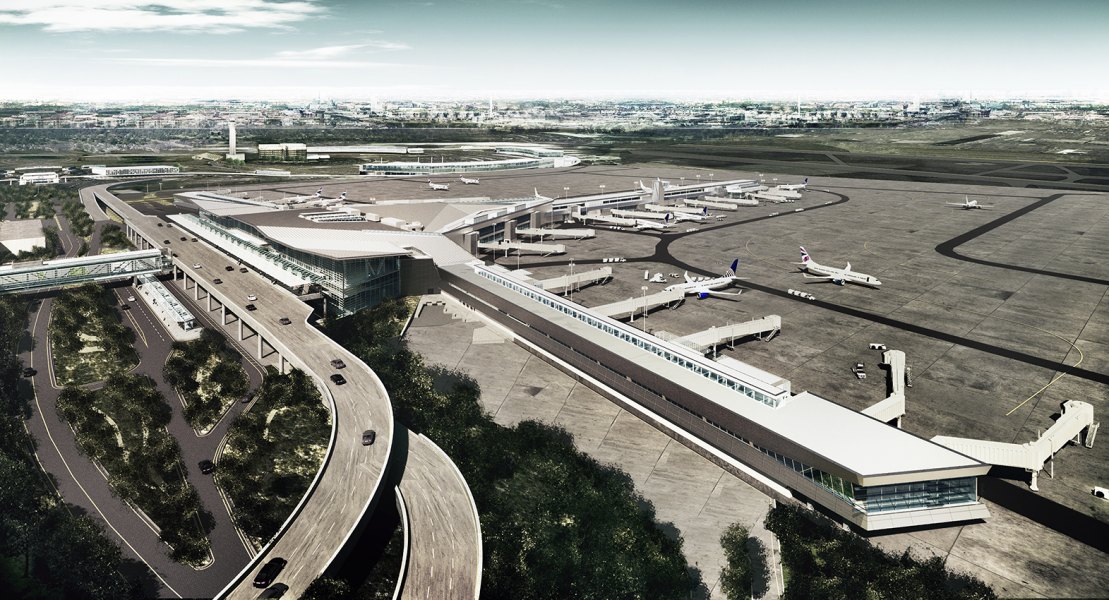 Terminal A Redevelopment at Newark Liberty International Airport (EWR)
Designed in a "T" configuration, this three-level, 1 million-square-foot terminal building provides 33 new domestic aircraft gates for Newark Liberty International Airport in Newark, New Jersey.
From 2012 through 2016, PGAL served as the Prime Consultant and Lead Architect for the advanced planning, concept development and production, and coordination of bridging documents for the new Terminal A. In 2016, The Port Authority of New York & New Jersey (PANYNJ) selected a design-build team led by Tutor Perini Parsons to complete design development and construction documents. PGAL assumed the role of Executive Architect to support PANYNJ in ensuring subsequent design work conformed to established performance and design criteria.  
Intended to operate as a common-use facility, Terminal A provides passengers with curbside check-in as well as a complete range of check-in options in the ticketing lobby, including self-service kiosks with self-tag and self-drop for baggage, staffed full-service check-in podiums, and dedicated premium passenger check-in areas.
The terminal is organized to provide efficient passenger processing and movement. An expandable security screening checkpoint provides increased passenger queue space and dedicated lanes for premium passengers, crew, and physically challenged travelers. The infrastructure serving check-in and screening operations will adapt to changing and future processing requirements. Dedicated airline check-in areas are also provided for premier passengers.
The baggage claim area includes six claim units with immediate access to airline services offices and passenger amenities for two defined arrivals areas from the departures concourses. PGAL maximized airline support for ramp operations and consolidated baggage processing and screening areas for efficient outbound and inbound baggage operations.
The terminal facilities include a high level of passenger services including a broad range of retail and food and beverage options integrated into the hold room seating areas. Hold rooms are designed to address a diverse aircraft fleet mix that includes wide body aircraft. Airline lounges are immediately accessible after the security checkpoint, and the mezzanine locations offer direct views of the airfield and the primary concourse area.
With a specific emphasis on an enhanced passenger experience, PGAL was also engaged to lead the integration of large format digital "sense of place" displays, advertising and a local Public Art program in Terminal A. In collaboration with Moment Factory, the team integrated the design of a "Digital Passenger Journey" to provide a personalized and iconic experience with unique multimedia zones that share the incredible story of New Jersey's people, places and culture.
Additionally, PGAL provided design services for an enhanced arrivals experience including digital wayfinding and architectural lighting that animates the multiple curbsides offering a full range of transportation means. The curbside can be dynamically adjusted based on demand using active pedestrian sensors and Intelligent Traffic Systems (ITS). PGAL recently completed the design of enhanced passenger amenities including sensory rooms, meditations spaces, adult changing rooms and business center to further the well-being offerings in the terminal.
Features Include:
Three-level, 1 million-square-foot terminal building with 33 new domestic aircraft gates
Curbside check-in as well as a complete range of check-in options in the ticketing lobby
Expandable security screening checkpoint to provide increased passenger queue space

Integration of large format digital "sense of place" displays, advertising, and local Public Art program