About PGAL
Careers
Collaborative. Forward-thinking. Dynamic. Our culture mirrors our work product. With a diverse practice and projects that span the globe, PGAL is an ideal place to build your career and develop skills in entrepreneurship, project delivery, leadership, and life. Many of our team members have spent significant portions of their careers with PGAL, working their way from entry level to leadership positions.
We invest in our employees, providing mentorship, training workshops, and the latest technology. Our benefits package includes medical, dental, vision, and 401(k) plans. PGAL is an equal opportunity / E-verify employer. Protected veterans and persons with disabilities under applicable state and federal laws are encouraged to apply.
We're looking for smart, curious people to fill the positions listed below.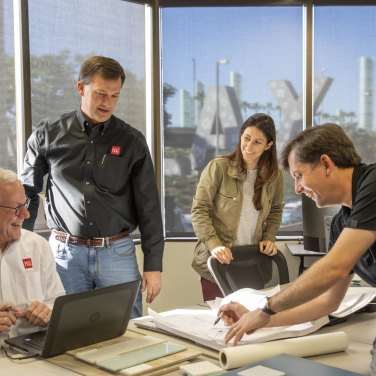 Filter Results
Current Openings
Interior Designer

Houston, Texas

PGAL is an international design firm specializing in architecture, interior architecture, engineering, and planning for a diverse group of public and private sector clients. Our culture is energetic, collaborative, and open and offers the opportunity to work on a wide range of project types. PGAL is an ideal place to build a career and develop skills in design, project delivery, entrepreneurship, leadership, and life.

We are seeking a talented Interior Designer with 5-10 years of experience in a wide variety of project types such as corporate/commercial, public/institution and retail/hospitality who is interested in contributing to and thriving in a positive, mutually supportive studio environment.

Responsibilities:
- Work individually and collaboratively with a team to create and develop innovative design solutions
- Prepare projects starting at programming and concept design and work through the phases through construction administration and installation.
- Work directly with our architectural team, clients, and consultants

Qualifications:
- Bachelor's degree in Interior Design or a related field from an accredited university required
- Proficient in REVIT and/or AutoCAD, with preference being given to candidates experienced in REVIT
- Working knowledge of SketchUp, Photoshop and Illustrator
- Strong design and detailing skills, as well as the ability to work in a fast-paced environment on multiple projects in varying stages as part of a project team, as well as individually
- Significant experience in preparing comprehensive interior design packages, including interior architectural detailing/construction documentation and FFE selection/specification
- Comprehensive knowledge of commercial and institutional furniture and preparation of FFE specifications
- Current knowledge of building codes and accessibility standards
- Demonstrated knowledge of products, materials, and interior detailing required for high-end commercial spaces.
- Must be legally authorized to work in the United States for any employer without sponsorship

PGAL offers a comprehensive benefits package including medical, dental, vision, disability, life, flexible spending accounts, 401(k) and profit sharing. We also offer paid leave inclusive of holidays, PTO and paid parental leave.

At PGAL, we believe that our employees are our future, so as well as offering inhouse study materials and group studies, we offer a reimbursement program for individual study materials/courses, exam/license fees and professional dues. In addition, we offer paid time off to take your exams.

If you are passionate about great design, team collaboration and creating change in communities across the country, we want to hear from you. To be considered for this position, resume and work samples must be provided.

PGAL is an Equal Employment Opportunity Employer: Females, Minorities, Veterans, and Disabled

PGAL is a VEVRAA Federal Contractor.

Interior Designer

Las Vegas, Nevada

PGAL is an international design firm specializing in architecture, interior architecture, engineering, and planning for a diverse group of public and private sector clients. Our culture is energetic, collaborative, and open and offers the opportunity to work on a wide range of project types. PGAL is an ideal place to build a career and develop skills in design, project delivery, entrepreneurship, leadership, and life.

We are seeking a talented Interior Designer with 5-10 years of experience in a wide variety of project types such as corporate/commercial, public/institution and retail/hospitality who is interested in contributing to and thriving in a positive, mutually supportive studio environment.

Responsibilities:
- Work individually and collaboratively with a team to create and develop innovative design solutions
- Prepare projects starting at programming and concept design and work through the phases through construction administration and installation.
- Work directly with our architectural team, clients, and consultants

Qualifications:
- Bachelor's degree in Interior Design or a related field from an accredited university required
- Proficient in REVIT and/or AutoCAD, with preference being given to candidates experienced in REVIT
- Working knowledge of SketchUp, Photoshop and Illustrator
- Strong design and detailing skills, as well as the ability to work in a fast-paced environment on multiple projects in varying stages as part of a project team, as well as individually
- Significant experience in preparing comprehensive interior design packages, including interior architectural detailing/construction documentation and FFE selection/specification
- Comprehensive knowledge of commercial and institutional furniture and preparation of FFE specifications
- Current knowledge of building codes and accessibility standards
- Demonstrated knowledge of products, materials, and interior detailing required for high-end commercial spaces.
- Must be legally authorized to work in the United States for any employer without sponsorship

PGAL offers a comprehensive benefits package including medical, dental, vision, disability, life, flexible spending accounts, 401(k) and profit sharing. We also offer paid leave inclusive of holidays and PTO.

At PGAL, we believe that our employees are our future, so as well as offering inhouse study materials and group studies, we offer a reimbursement program for individual study materials/courses, exam/license fees and professional dues. In addition, we offer paid time off to take your exams.

If you are passionate about great design, team collaboration and creating change in communities across the country, we want to hear from you. To be considered for this position, resume and work samples must be provided.

PGAL is an Equal Employment Opportunity Employer: Females, Minorities, Veterans, and Disabled

PGAL is a VEVRAA Federal Contractor.

Senior Project Architect/Designer

Houston, Texas

PGAL is an international design firm specializing in architecture, interior architecture, engineering and planning for a diverse group of public and private sector clients. Our culture is energetic, collaborative, and open and offers the opportunity to work on a wide range of project types. PGAL is an ideal place to build a career and develop skills in design, project delivery, entrepreneurship, leadership, and life.

We are seeking a talented, technically focused Senior Project Architect with 10+ years of industry experience who is interested in contributing to and thriving in a positive, mutually supportive studio environment.

Responsibilities:
- Responsibilities include all phases of design documentation through construction administration, project management and client contact
- Effectively demonstrate technical detailing and problem-solving skills on complex project types
- Be a technical resource for project teams

Qualifications:
- Bachelor's or master's degree in architecture or related field from an accredited university required
- U.S. Architectural license preferred
- Must be able to manage and produce documents on multiple projects concurrently in a fast-paced environment with strong communication skills, both orally and in writing
- Must be legally authorized to work in the United States for any employer without sponsorship

PGAL offers a comprehensive benefits package including medical, dental, vision, disability, life, flexible spending accounts, 401(k) and profit sharing. We also offer paid leave inclusive of PTO, holiday pay and parental leave.

At PGAL, we believe that our employees are our future, so as well as offering inhouse study materials and group studies, we offer a reimbursement program for individual study materials/courses, exam/license fees and professional dues. In addition, we offer paid time off to take your exams.

If you are passionate about great design, team collaboration and creating change in communities across the country, we want to hear from you. To apply, please provide resume and work samples.

PGAL is an Equal Employment Opportunity Employer: Females, Minorities, Veterans, and Disabled

PGAL is a VEVRAA Federal Contractor.

Architectural Designer

Alexandria, Virginia

PGAL is an international design firm specializing in architecture, interior architecture, engineering, and planning for a diverse group of public and private sector clients. Our culture is energetic, collaborative, and open and offers the opportunity to work on a wide range of project types. is an ideal place to build a career and develop skills in design, project delivery, entrepreneurship, leadership, and life.

PGAL is seeking a talented Architectural Designer with 3-5 years of industry experience who is interested in contributing to and thriving in a positive, mentoring studio environment.

Responsibilities:
- Utilize strong graphic and design skills, and the ability to work in a fast-paced environment, on multiple projects in varying stages, both individually and as part of a project team
- All phases of design documentation through construction administration, project management and client contact
- Prepare and develop architectural documents, elevations, sections and details utilizing Revit under direction of other project team members

Qualifications:
- Bachelor's degree in architecture or related field from an accredited university is required
- Demonstrated proficiency in Revit and Microsoft Office
- Knowledge of U.S architectural building systems
- Ability to work in a fast-paced environment on multiple projects in varying stages, both individually and as part of a project team
- Excellent oral and written communication skills
- Must be legally authorized to work in the United States for any employer without sponsorship

PGAL offers a comprehensive benefits package including medical, dental, vision, disability, life, flexible spending accounts, 401(k) and profit sharing. We also offer paid leave inclusive of holidays, PTO and paid parental leave.

At PGAL, we believe that our employees are our future, so as well as offering in-house AXP study materials and group studies, we offer a reimbursement program for individual study materials/courses, exam/license fees and professional dues. In addition, we offer paid time off to take your exams.

If you are passionate about great design, team collaboration, and creating change in communities across the country, we want to hear from you. To apply, please provide resume and work samples with application materials.

PGAL is an Equal Employment Opportunity Employer: Females, Minorities, Veterans, and Disabled

PGAL is a VEVRAA Federal Contractor.

Location:

Alexandria, Virginia

Salary:

Based upon qualifications

Availability:

Immediately

Architectural Designer

Austin, Texas

PGAL is an international design firm specializing in architecture, interior architecture, engineering, and planning for a diverse group of public and private sector clients. Our culture is energetic, collaborative, and open and offers the opportunity to work on a wide range of project types. is an ideal place to build a career and develop skills in design, project delivery, entrepreneurship, leadership, and life.

PGAL is seeking a talented Architectural Designer with 3-5 years of industry experience who is interested in contributing to and thriving in a positive, mentoring studio environment.

Responsibilities:
- Utilize strong graphic and design skills, and the ability to work in a fast-paced environment, on multiple projects in varying stages, both individually and as part of a project team
- All phases of design documentation through construction administration, project management and client contact
- Prepare and develop architectural documents, elevations, sections and details utilizing Revit under direction of other project team members

Qualifications:
- Bachelor's degree in architecture or related field from an accredited university is required
- Demonstrated proficiency in Revit and Microsoft Office
- Knowledge of U.S architectural building systems
- Ability to work in a fast-paced environment on multiple projects in varying stages, both individually and as part of a project team
- Excellent oral and written communication skills
- Must be legally authorized to work in the United States for any employer without sponsorship

PGAL offers a comprehensive benefits package including medical, dental, vision, disability, life, flexible spending accounts, 401(k) and profit sharing. We also offer paid leave inclusive of holidays, PTO and paid parental leave.

At PGAL, we believe that our employees are our future, so as well as offering in-house AXP study materials and group studies, we offer a reimbursement program for individual study materials/courses, exam/license fees and professional dues. In addition, we offer paid time off to take your exams.

If you are passionate about great design, team collaboration, and creating change in communities across the country, we want to hear from you. To apply, please provide resume and work samples with application materials.

PGAL is an Equal Employment Opportunity Employer: Females, Minorities, Veterans, and Disabled

PGAL is a VEVRAA Federal Contractor.

Architectural Intern

Austin, Texas

PGAL is an international design firm specializing in architecture, interior architecture, engineering, and planning for a diverse group of public and private sector clients. Our culture is energetic, collaborative, and open and offers the opportunity to work on a wide range of project types. is an ideal place to build a career and develop skills in design, project delivery, entrepreneurship, leadership, and life.

PGAL is seeking a talented Architectural Intern with 0-3 years of industry experience who is interested in contributing to and thriving in a positive, mentoring studio environment. This is a full-time position requiring completion of a bachelor's degree in architecture from an accredited university.

Responsibilities:
- Utilize strong graphic and design skills, and the ability to work in a fast-paced environment, on multiple projects in varying stages, both individually and as part of a project team
- All phases of design documentation through construction administration, project management and client contact

Qualifications:
- Bachelor's degree in architecture or related field from an accredited university is required
- Working knowledge of REVIT with strong design skills
- Knowledge of other types of graphic programs is a plus
- Ability to work in a fast-paced environment on multiple projects in varying stages, both individually and as part of a project team
- Excellent communication skills
- Must be legally authorized to work in the United States for any employer without sponsorship

PGAL offers a comprehensive benefits package including medical, dental, vision, disability, life, flexible spending accounts, 401(k) and profit sharing. We also offer paid leave inclusive of holidays, PTO and paid parental leave.

At PGAL, we believe that our employees are our future, so as well as offering in-house AXP study materials and group studies, we offer a reimbursement program for individual study materials/courses, exam/license fees and professional dues. In addition, we offer paid time off to take your exams.

If you are passionate about great design, team collaboration, and creating change in communities across the country, we want to hear from you. To apply, please provide resume and work samples with application materials.

PGAL is an Equal Employment Opportunity Employer: Females, Minorities, Veterans, and Disabled

PGAL is a VEVRAA Federal Contractor.

Senior Project Architect/Designer

Las Vegas, Nevada

PGAL is an international design firm specializing in architecture, interior architecture, engineering and planning for a diverse group of public and private sector clients. Our culture is energetic, collaborative and open and offers the opportunity to work on a wide range of project types. PGAL is an ideal place to build a career and develop skills in design, project delivery, entrepreneurship, leadership and life.

We are seeking a talented, technically-focused Senior Project Architect/Designer with 10+ years of experience who is interested in contributing to and thriving in a positive, mutually supportive studio environment.

Responsibilities:
- Responsibilities include all phases of design documentation through construction administration, project management and client contact
- Effectively demonstrate technical detailing and problem-solving skills on complex project types
- Be a technical resource for project teams

Qualifications:
- Bachelor's or Master's degree in Architecture or related field from an accredited university required
- U.S. Architectural license preferred
- Must be able to manage and produce documents on multiple projects concurrently in a fast-paced environment with strong communication skills, both orally and in writing
- Must be legally authorized to work in the United States for any employer without sponsorship

PGAL offers a comprehensive benefits package including medical, dental, vision, disability, life, flexible spending accounts, 401(k) and profit sharing. We also offer paid leave inclusive of holidays and paid time off.

At PGAL, we believe that our employees are our future, so as well as offering inhouse study materials and group studies, we offer a reimbursement program for individual study materials/courses, exam/license fees and professional dues. In addition, we offer paid time off to take your exams.

If you are passionate about great design, team collaboration and creating change in communities across the country, we want to hear from you. To apply, please provide resume and work samples.

PGAL is an Equal Employment Opportunity Employer: Females, Minorities, Veterans, and Disabled

PGAL is a VEVRAA Federal Contractor.

A/E/C Proposal Writer

Houston, Texas

PGAL is an international design firm specializing in architecture, interior architecture, engineering and planning for a diverse group of public and private sector clients. Our culture is energetic, collaborative and open and offers the opportunity to work on a wide range of project types. PGAL is an ideal place to build a career and develop skills in design, project delivery, entrepreneurship, leadership and life.

We are seeking an energetic and creative Proposal Writer to join our Houston-based marketing team with AEC industry experience. The ideal candidate is a positive, proactive team player with a can-do attitude, someone who is able to be flexible and self-motivated.

Responsibilities:
Include, but not limited to,
- Collaborating with firm principals and the marketing/business development team to organize and produce marketing deliverables including, creative, quality and accurate qualification statements, proposals and presentations
- Working with other marketing staff to identify creative new ways to enhance proposal and presentation product
- Provide support to generate and maintain general marketing deliverables (project sheets, resumes, Vision database, etc.)

Qualifications:
- 3+ years of relevant industry experience in A/E marketing required
- Must have a high degree of proficiency with Adobe Creative Suite (particularly InDesign) as well as MS Office suite
- Familiarity with Deltek Vision and OpenAsset is preferred
- Excellent written and verbal communication skills with the ability to conceive and produce quality, professional proposals and presentations from start to finish, including writing original technical narratives for project descriptions, project approaches, a variety of marketing pieces, as well as cutting edge graphics
- Time management skills are a must, with the ability to organize and prioritize multiple, simultaneous projects in a fast-paced environment

PGAL offers a comprehensive benefits package including medical, dental, vision, disability, life, flexible spending accounts, 401(k) and profit sharing. We also offer paid leave inclusive of holidays and PTO.

If you are a highly motivated, detail oriented and enthusiastic candidate with the ability to prioritize, organize, and maintain a positive attitude in a fast-paced environment, please apply.

An Equal Opportunity Employer Females/Minorities/Veterans/Disabled

PGAL is a VEVRAA Federal Contractor

Senior Billing Specialist

Houston, Texas

PGAL is an international design firm specializing in architecture, interior architecture, engineering, and planning for a diverse group of public and private sector clients. Our culture is energetic, collaborative, and open. We offer the opportunity to work on a wide range of project types. PGAL is an ideal place to build a career.

We are seeking a Senior Billing Specialist with a minimum of 5 years of related experience in the Architecture/Engineering/Construction industry. The ideal candidate will have strong organization skills and proficiency in Deltek Vision software is required.

Responsibilities include, but are not limited to:
- Full Project and Billing/Invoicing cycle
- Project Accounting -contract review, project setup, invoicing schematics, reporting, issue insurance certificates, and implementation of client specific requirements
- Physical and Electronic invoice submission/Client Portal uploads
- Project MWBE, City/Local Government Reporting
- Project analysis, reconciliation and maintenance
- Monitor A/R and perform collection efforts
- Consultant Insurance Certificates management and tracking

Qualifications:
-Prior experience working in an Architecture/Engineering environment
- 5 years of billing/invoicing (LS, T&M, and CP) and contract/project management support experience required.
- Intermediate/Advanced Proficiency with MS Outlook, Excel, and Word
- Proficient with A/E Industry Software - Deltek Vision/Vantagepoint required
- Must be organized, detail oriented, motivated and able to multi-task
- Able to handle high volumes of communication- oral/email/written correspondence.
- Willing to thrive and learn in a fast-paced environment
- FAR and Federal Contracting experience a plus
- Must be legally authorized to work in the United States for any employer without sponsorship

PGAL offers a comprehensive benefits package including medical, dental, vision, disability, life, flexible spending accounts, 401(k), and profit sharing. We also offer paid leave inclusive of holidays and PTO. If you are passionate about great design, team collaboration and creating change in communities across the country, we want to hear from you.

PGAL is an Equal Employment Opportunity Employer: Females, Minorities, Veterans, and Disabled

PGAL is a VEVRAA Federal Contractor.

Accounts Receivable/Accounts Payable Specialist

Houston, Texas

PGAL is an international design firm specializing in architecture, interior architecture, engineering, and planning for a diverse group of public and private sector clients. Our culture is energetic, collaborative, and open and offers the opportunity to work on a wide range of project types. is an ideal place to build a career and develop skills in design, project delivery, entrepreneurship, leadership, and life.

We are seeking to hire a full-cycle Accounts Receivable/Payable Specialist with 5+ years' A/E/C industry experience to assist with project accounting-related tasks, client invoicing and accounts payable, and to provide support to our billing and A/P teams. Ideal candidate is a team player who can balance multiple tasks while working in a fast-paced, dynamic environment.

Responsibilities:
Including, but not limited to,
- Full cycle AP (processing, coding and auditing) of consultant invoices in compliance with company policies, procedures and deadlines
- Assist with the processing of Trade payables and expense reports
- Ensuring timely payments of vendor invoices and expense vouchers, as well as vendor and employee inquiries
- Maintain Accounts Payable Aging Report and reconciling Vendor accounts
- Maintain vendor integrity, 1099 information and filing
- Project accounting
- Contract and project auditing (contract review, project set-up, invoicing schematics, reporting/insurance requirements, issue and collection of insurance certificates and implementation of client-specific requirements) - Issue/collect/maintain Certificate of Insurance (COI) in compliance with project contractual and procedural requirements
- Project analysis
- Coordinate with billing staff in the monthly planning and consultant related matters
- Assist with audit tasks as needed

Qualifications:
- High school diploma
- 5+ years of prior experience processing high volumes of payables and billings
- Must have prior experience in an A/E/C firm
-Must have excellent customer service communicating with internal and external customers
- Proficient in Microsoft Office Suite (Outlook, Excel and Word)
- Proficient in Bluebeam or Adobe Acrobat
- Intermediate/Advanced skills in Deltek Vision/Vantagepoint
- Ability to work in a fast-paced environment
- Team player with ability to balance multiple tasks
- Must be authorized to work in the United States for any employer without sponsorship

PGAL offers a comprehensive benefits package including medical, dental, vision, disability, life, flexible spending accounts, 401(k) and profit sharing. We also offer paid leave inclusive of holidays, and PTO.

PGAL is an Equal Employment Opportunity Employer: Females, Minorities, Veterans, and Disabled

PGAL is a VEVRAA Federal Contractor.

Project Architect/Designer

Addison, Texas

PGAL is an international design firm specializing in architecture, interior architecture, engineering and planning for a diverse group of public and private sector clients. Our culture is energetic, collaborative and open and offers the opportunity to work on a wide range of project types. is an ideal place to build a career and develop skills in design, project delivery, entrepreneurship, leadership and life.

We are seeking a talented, licensed Project Architect or Designer with 5-10 years of experience who is interested in contributing to and thriving in a positive, mutually supportive studio environment.

Responsibilities:
- Responsibilities include all phases of design documentation through construction administration, project management and client contact.
- Effectively demonstrate technical detailing and problem-solving skills on complex project types.

Qualifications:
- Bachelor's degree in Architecture or related field from an accredited university
- U.S. Architectural license
- LEED accreditation is a plus
- K-12/ Higher Education experience is a plus
- Knowledge of Microsoft Office and demonstrated proficiency in REVIT
- Must be able to manage and produce documents on multiple projects concurrently in a fast-paced environment with strong communication skills, both orally and in writing
- Must be legally authorized to work in the United States for any employer without sponsorship

PGAL offers a comprehensive benefits package including medical, dental, vision, disability, life, flexible spending accounts, 401(k) and profit sharing. We also offer paid leave inclusive of holidays and paid time off.

At PGAL, we believe that our employees are our future, so as well as offering inhouse study materials and group studies, we offer a reimbursement program for individual study materials/courses, exam/license fees and professional dues. In addition, we offer paid time off to take your exams.

If you are passionate about great design, team collaboration and creating change in communities across the country, we want to hear from you. To apply, please provide resume and work samples..

PGAL is an Equal Employment Opportunity Employer: Females, Minorities, Veterans, and Disabled

PGAL is a VEVRAA Federal Contractor.

Project Architect/Designer

Houston, Texas

PGAL is an international design firm specializing in architecture, interior architecture, engineering and planning for a diverse group of public and private sector clients. Our culture is energetic, collaborative and open and offers the opportunity to work on a wide range of project types. PGAL is an ideal place to build a career and develop skills in design, project delivery, entrepreneurship, leadership and life.

We are seeking a talented, licensed Project Architect or Designer with 5-10 years of experience who is interested in contributing to and thriving in a positive, mutually supportive studio environment.

Responsibilities:
- Responsibilities include all phases of design documentation through construction administration, project management and client contact
- Effectively demonstrate technical detailing and problem-solving skills on complex project types

Qualifications:
- Bachelor's degree in Architecture or related field from an accredited university required
- U.S. Architectural license preferred or demonstrated progress towards obtaining a license
- Must have demonstrated proficiency in REVIT and knowledge of Microsoft Office
- Must be able to manage and produce documents on multiple projects concurrently in a fast-paced environment with strong communication skills, both orally and in writing
- Must be legally authorized to work in the United States for any employer without sponsorship

PGAL offers a comprehensive benefits package including medical, dental, vision, disability, life, flexible spending accounts, 401(k) and profit sharing. We also offer paid leave inclusive of holidays, and PTO.

At PGAL, we believe that our employees are our future, so as well as offering inhouse study materials and group studies, we offer a reimbursement program for individual study materials/courses, exam/license fees and professional dues. In addition, we offer paid time off to take your exams.

If you are passionate about great design, team collaboration and creating change in communities across the country, we want to hear from you. To apply, please complete the application and provide resume and work samples.


PGAL is an Equal Employment Opportunity Employer: Females, Minorities, Veterans, and Disabled

PGAL is a VEVRAA Federal Contractor.

Senior Project Architect/Designer

Addison, Texas

PGAL is an international design firm specializing in architecture, interior architecture, engineering and planning for a diverse group of public and private sector clients. Our culture is energetic, collaborative and open and offers the opportunity to work on a wide range of project types. PGAL is an ideal place to build a career and develop skills in design, project delivery, entrepreneurship, leadership and life.

We are seeking a talented, technically-focused Senior Project Architect/Designer with 10+ years of experience who is interested in contributing to and thriving in a positive, mutually supportive studio environment.

Responsibilities:
- Responsibilities include all phases of design documentation through construction administration, project management and client contact
- Effectively demonstrate technical detailing and problem-solving skills on complex project types
- Be a technical resource for project teams

Qualifications:
- Bachelor's or Master's degree in Architecture or related field from an accredited university required
- U.S. Architectural license preferred
- Must be able to manage and produce documents on multiple projects concurrently in a fast-paced environment with strong communication skills, both orally and in writing
- Must be legally authorized to work in the United States for any employer without sponsorship

PGAL offers a comprehensive benefits package including medical, dental, vision, disability, life, flexible spending accounts, 401(k) and profit sharing. We also offer paid leave inclusive of holidays and paid time off.

At PGAL, we believe that our employees are our future, so as well as offering in-house study materials and group studies, we offer a reimbursement program for individual study materials/courses, exam/license fees and professional dues. In addition, we offer paid time off to take your exams.

If you are passionate about great design, team collaboration, and creating change in communities across the country, we want to hear from you. To apply, please provide resume and work samples.

Social distancing guidelines and cleaning procedures are in place to ensure health safety for all employee

PGAL is an Equal Employment Opportunity Employer: Females, Minorities, Veterans, and Disabled

PGAL is a VEVRAA Federal Contractor.

Project Architect/Designer

Boca Raton, Florida

PGAL is an international design firm specializing in architecture, interior architecture, engineering, and planning for a diverse group of public and private sector clients. Our culture is energetic, collaborative, and open and offers the opportunity to work on a wide range of project types. PGAL is an ideal place to build a career and develop skills in design, project delivery, entrepreneurship, leadership and life.

We are seeking a talented, licensed Project Architect or Designer with 5-10 years of experience who is interested in contributing to and thriving in a positive, mutually supportive studio environment.

Responsibilities:
- Responsibilities include all phases of design documentation through construction administration, project management and client contact
- Effectively demonstrate technical detailing and problem-solving skills on complex project types

Qualifications:
- Bachelor's degree in Architecture or related field from an accredited university required
- U.S. Architectural license preferred
- Must have demonstrated proficiency in REVIT and knowledge of Microsoft Office
- Must be able to manage and produce documents on multiple projects concurrently in a fast-paced environment with strong communication skills, both orally and in writing
- Must be legally authorized to work in the United States for any employer without sponsorship

PGAL offers a comprehensive benefits package including medical, dental, vision, disability, life, flexible spending accounts, 401(k) and profit sharing. We also offer paid leave inclusive of holidays, and PTO.

At PGAL, we believe that our employees are our future, so as well as offering inhouse study materials and group studies, we offer a reimbursement program for individual study materials/courses, exam/license fees and professional dues. In addition, we offer paid time off to take your exams.

If you are passionate about great design, team collaboration and creating change in communities across the country, we want to hear from you.

An Equal Opportunity Employer Females/Minorities/Veterans/Disabled

PGAL is a VEVRAA Federal Contractor




Architectural Intern

Addison, Texas

PGAL is an international design firm specializing in architecture, interior architecture, engineering and planning for a diverse group of public and private sector clients. Our culture is energetic, collaborative and open and offers the opportunity to work on a wide range of project types. PGAL is an ideal place to build a career and develop skills in design, project delivery, entrepreneurship, leadership and life.

We are currently seeking a talented Architectural Intern with 1-5 years of experience who is interested in contributing to and thriving in a positive, mentoring studio environment.

Responsibilities:
- Utilize strong graphic and design skills, and the ability to work in a fast-paced environment, on multiple projects in varying stages, both individually and as part of a project team
- Responsibilities will include all phases of design documentation through construction administration, project management and client contact
- Project types to include libraries, police stations, fire stations, city halls, recreation centers and higher education

Qualifications:
- Bachelor's degree in Architecture or related field from an accredited university
- LEED accreditation is a plus
- Knowledge of Microsoft Office and demonstrated proficiency in REVIT
- Excellent communication skills
- Must be legally authorized to work in the United States for any employer without sponsorship

PGAL offers a comprehensive benefits package including medical, dental, vision, disability, life, flexible spending accounts, 401(k) and profit sharing. We also offer paid leave inclusive of holidays and PTO.

At PGAL, we believe that our employees are our future, so as well as offering inhouse study materials and group studies, we offer a reimbursement program for individual study materials/courses, exam/license fees and professional dues. In addition, we offer paid time off to take your exams.

If you are passionate about great design, team collaboration and creating change in communities across the country, we want to hear from you. To be considered for this position, resume and work samples must be provided.

PGAL is an Equal Employment Opportunity Employer: Females, Minorities, Veterans, and Disabled

PGAL is a VEVRAA Federal Contractor.

Interior Designer

Boca Raton, Florida

PGAL is an international design firm specializing in architecture, interior architecture, engineering, and planning for a diverse group of public and private sector clients. Our culture is energetic, collaborative, and open and offers the opportunity to work on a wide range of project types. is an ideal place to build a career and develop skills in design, project delivery, entrepreneurship, leadership, and life.

We are seeking a talented, Interior Designer with 5+ years of experience in a wide variety of project types such as corporate/commercial, public/institution and retail/hospitality who is interested in contributing to and thriving in a positive, mutually supportive studio environment.

Responsibilities:
- Work individually and collaboratively with a team to create and develop innovative design solutions
- Prepare programming and concept design, including space planning, furnishings layout, lighting, and finish selections for a wide range of project types
- Work directly with our clients and consultants

Qualifications:
- Bachelor's degree in Interior Design or related field from an accredited university required
- U.S. licensed Interior Designer is preferred
- Demonstrated proficiency in REVIT and/or AutoCAD, with preference being given to candidates experienced in REVIT
- Working knowledge of SketchUp, Photoshop and Illustrator
- Strong design and detailing skills, as well as the ability to work in a fast-paced environment on multiple projects in varying stages as part of a project team, as well as individually
- Experience in preparing comprehensive interior design packages, including interior architectural detailing/construction documentation and FFE selection/specification
- Comprehensive knowledge of commercial and institutional furniture and preparation of FFE specifications
- Current knowledge of building codes and accessibility standards
- Demonstrated knowledge of products, materials, and interior detailing required for high-end commercial spaces.
- Must be legally authorized to work in the United States for any employer without sponsorship

PGAL offers a comprehensive benefits package including medical, dental, vision, disability, life, flexible spending accounts, 401(k) and profit sharing. We also offer paid leave inclusive of holidays, and PTO.

If you are passionate about great design, team collaboration and creating change in communities across the country, we want to hear from you. To be considered for this position, resume and work samples must be provided with your application.

PGAL is an Equal Employment Opportunity Employer: Females, Minorities, Veterans, and Disabled

PGAL is a VEVRAA Federal Contractor.

System Administrator

Houston, Texas

PGAL is an international design firm specializing in architecture, interior architecture, engineering, and planning for a diverse group of public and private sector clients. Our culture is energetic, collaborative, and open and offers the opportunity to work on a wide range of project types. PGAL is an ideal place to build a career. We are seeking a Systems Administrator to join our corporate IT Team.

The Systems Administrator will plan, organize, and ensure the stable and secure operation of the organization's IT Infrastructure. This includes developing, maintaining, supporting, and optimizing key functional areas such as physical and virtual network, server, and storage infrastructure. The individual must be able to help coordinate, develop and drive the IT Strategic Plan and the internal processes and policies required to implement it.

Responsibilities:
Include, but not limited to,
- Deliver relevant IT Service performance information or other key IT metric content to the business via regular reports and dashboards
- Coordinate with management to implement IT policies, procedures, and system controls
- Performs analysis of server infrastructure environment needs and leads design architecture, integration, and installation
- Maintain accurate, detailed documentation for software, server, and network infrastructure including, but not limited to, LAN/WAN diagrams and Server Architecture diagrams
- Assesses the relative impact of IT industry trends on current and future infrastructure needs and projects
- Maintains hardware and software lifecycle maintenance and asset refresh needs
- Works with Managed Service Providers to ensure that the infrastructure system platforms provide sufficient computing resources to deliver the desired level of business performance
- Evaluates network, hardware, and software requirements and capabilities and makes recommendations
- Establishes and controls systems access and security along with regularly performing security access reviews and audits
- Manages backups, storage, and retrieval functions as well as data archival process
- Develops, maintains, and tests Disaster Recovery and Business Continuity Plans
- Extensive experience managing Active Directory, Group Policy, DNS, DHCP, IIS, and other Windows Server Roles
- Detailed understanding of IP Addressing, IP Routing protocols, and circuit technologies
- Experience working with network monitoring systems (PRTG preferred but not required)
- Proactively works to promote a positive and customer service-focused team culture
- Work closely with other roles to research new tools and technologies that can better support business needs
- Contribute to help desk queue when available
- Well organized and able to communicate effectively through project management software tools and written documentation
- Passionate about technology and how It can be used to solve business problems with tangible results
- Eager to question assumptions, and then take the initiative to find creative solutions
- Develop and forecast project budgets for new initiatives and hardware refresh cycles
- Presents multiple solution alternatives on all IT Infrastructure selections to management for cost/benefit review and final decision
- Manages IT Infrastructure Project Portfolio Reporting – creates and communicates estimates of resources, timelines, and risks for delivering proposed strategies and plans
- Advanced troubleshooting and administration of Windows-based applications operating systems (desktop and server), and server roles (AD DS, DHCP, DN, DFS, Print Server, File Server, Terminal Server, etc.)
- Remediate software vulnerabilities and keep on top of updates, as well as changes to the environment
- Continuously identify and remediate security deficiencies in the network/server infrastructure

Qualifications:
- Bachelor's degree in Information Technology, Computer Science, Telecommunications or equivalent certifications required
- Prior A/E/C industry experience required
- 12+ years of networking experience with various LAN, WAN, Security, and Wi-Fi technologies and protocols required
- Must possess a good balance of both strategic IT ability as well as "hands-on" technical/problem-solving capabilities as this role with contributing to IT Strategy and will have direct responsibility for IT Infrastructure
- Proven ability to work independently with minimal supervision; must be a self-motivated self-starter that can initiate ideas and take ownership of work
- Hands-on capability using/managing the following types of technologies: Network routers/firewalls/wireless access points, VOIP (Teams Voice, Cisco Call Manager/Unity), VPN, and SD-WAN
- Experience developing and maintaining Disaster Recovery and Business Continuity Plans
- Deep understanding of managing Active Directory (AD), Group Policy, and DNS
- Experience managing Microsoft O365 (Teams/Exchange Online/SharePoint Online)
- Experience in Data Center Server and Storage strategies and technologies
- Network Appliance or relevant NAS/SAN, ISCSI experience
- Enterprise Backup Solutions
- Experience with Windows Server Administration
- Experience in developing, managing, and administration of VMware and/or other Virtualization providers
- Strong understanding of cloud-computing strategies and experience with Cloud design and migration planning and implementation (e.g. Azure, AWS)
- Experience in managing Internet Service Providers, Managed Service Providers, and other critical Vendor relationships
- Experience implementing SSO and Two-Factor authentication policies and procedures as well as hands-on experiencing managing and administrating relevant platforms
- Strong project management skills with excellent skills in building and maintaining project work plans and budgets
- High level of interpersonal and communication skills required to interact with all levels of the organization, to ensure effective communication across functional and managerial boundaries, and to direct the work of operations/project collaborators
- Ability to maintain company and employee confidentiality at all times, handle sensitive employee information, and appropriately protect company proprietary information.
- Must be legally authorized to work in the United States for any employer without sponsorship


Preferred Qualifications:
- Advanced networking certifications preferred
- Experience with Azure and/or AWS
- Industry training such as Microsoft MCSE, MCITP
- Industry certifications such as ITIL v4, Network+, and Security+
- Certified Project Management Professional (PMP)/Prince2/Project+ certification
- Experience working with VMWare ESX, vSphere, and/or vCenter along with VCP-DCV certification
- Experience with VMware Horizon and Virtual Desktop Infrastructure along with relevant certification
- Experience with Microsoft SQL Server and SharePoint Server
- Experience with scripting (PowerShell) and automation
- Experience with Data Cabling / Computer Facilities maintenance

PGAL offers a comprehensive benefits package including medical, dental, vision, disability, life, flexible spending accounts, 401(k), and profit sharing. We also offer paid leave inclusive of holidays, and PTO. If you are passionate about great design, team collaboration and creating change in communities across the country, we want to hear from you.

PGAL is an Equal Employment Opportunity Employer: Females, Minorities, Veterans, and Disabled

PGAL is a VEVRAA Federal Contractor.

Revit/BIM Manager

Houston, Texas

PGAL is an international design firm specializing in architecture, interior architecture, engineering, and planning for a diverse group of public and private sector clients. Our culture is energetic, collaborative, and open and offers the opportunity to work on a wide range of project types. is an ideal place to build a career and develop skills in design, project delivery, entrepreneurship, leadership, and life.

PGAL is seeking a talented Revit/BIM Manager with 2-5 years of architectural/design firm experience providing Revit/BIM management, and support for the firm's Revit projects. We are seeking candidates who have demonstrated capacity for a high level of responsibility and interested in contributing to and thriving in a positive, mentoring studio environment.

Responsibilities:
-Provide Revit/BIM management, leadership, model management, and support for the firm's projects
-Work collaboratively with current BIM Managers in the firm
-Work closely with project teams on developing BIM implementation plans, project startup methods and workflow strategies
-Assist project teams with advanced Revit modeling requirements, content creation, and coordination efforts
-Manage and organize Revit detail and family libraries for use between projects
-Develop and implement Revit standards, and coordinate standards for specific project requirements
-Provide Revit/BIM quality control of all projects, including model maintenance and reviews and application of best practices
-Assist troubleshooting and resolving Revit/BIM application issues
-Provide BIM application training to staff as required
-Review and implement new versions of BIM software and develop customized solutions as required in liaison with IT Department

Qualifications:
-Experience in the field of Architecture in a BIM leadership role
-Bachelor's degree in Architecture or related field from an accredited university is required
-Three or more built projects (200.000 sq. ft. or larger) in Revit; including collaboration with other major disciplines (structure, MEP, interiors)
-Experience with a BIM execution plan and providing a detailed modeling plan for each phase of design
-Expert level of knowledge of Autodesk Revit and Revit project workflows
-Collaborative project management with multiple design teams/offices that involved model integration
-Have played a role in project coordination/model mediation/sequencing
-Familiarity with model visualization – using Revit as the base point and integrating with other software for rendering/animation (i.e., 3ds Max) and for post-production (i.e., Photoshop and After Effects)
-Working knowledge of analysis models that vary from solar studies to quantity takeoffs
-Experience with Integrated Project Delivery (IPD)
-Working knowledge in additional applications for energy modeling and analysis, rendering, programing
-Working knowledge or fluency in Rhino preferred
-Must be legally authorized to work in the United States for any employer without sponsorship

PGAL offers a comprehensive benefits package including medical, dental, vision, disability, life, flexible spending accounts, 401(k) and profit sharing. We also offer paid leave inclusive of holidays and PTO.

At PGAL, we believe that our employees are our future, so as well as offering in-house AXP study materials and group studies, we offer a reimbursement program for individual study materials/courses, exam/license fees and professional dues. In addition, we offer paid time off to take your exams.

If you are passionate about great design, team collaboration, and creating change in communities across the country, we want to hear from you.

PGAL is an Equal Employment Opportunity Employer: Females, Minorities, Veterans, and Disabled

PGAL is a VEVRAA Federal Contractor.

#LI-Onsite

CADD Designer

Houston, Texas

PGAL is a design firm specializing in civil engineering, architecture, and planning for a diverse group of public and private sector clients. Our culture is energetic, collaborative, and open and offers the opportunity to work on a wide range of project types. PGAL is an ideal place to build a career and develop skills in design, project delivery, entrepreneurship, leadership, and life.

Responsibilities:
- Prepare and detail design drawings for transportation and structural engineering projects (roadways, bridges, drainage, buildings) using MicroStation.

Qualifications:
- Strong MicroStation experience
- GEOPAK and Axiom software experience desirable
- Experience preparing drawings for TxDOT projects desirable
- Other desirable program experience include OpenRoads, InRoads, AutoCAD, Autodesk Revit and Civil 3D
- Must be legally authorized to work in the United States for any employer without sponsorship
- Associate's Degree preferred

PGAL offers a comprehensive benefits package including medical, dental, vision, disability, life, flexible spending accounts, 401(k) and profit sharing. We also offer paid leave inclusive of holidays and PTO.

At PGAL, we believe that our employees are our future, so as well as offering inhouse study materials and group studies, we offer a reimbursement program for individual study materials/courses, exam/license fees and professional dues. In addition, we offer paid time off to take your exams.

If you are passionate about great design, team collaboration and creating change in communities across the country, we want to hear from you.

An Equal Opportunity Employer Females/Minorities/Veterans/Disabled

PGAL is a VEVRAA Federal Contractor

Architectural Intern

Houston, Texas

PGAL is an international design firm specializing in architecture, interior architecture, engineering, and planning for a diverse group of public and private sector clients. Our culture is energetic, collaborative, and open and offers the opportunity to work on a wide range of project types. is an ideal place to build a career and develop skills in design, project delivery, entrepreneurship, leadership, and life.

PGAL is seeking a talented Architectural Intern with 0-3 years of industry experience who is interested in contributing to and thriving in a positive, mentoring studio environment. This is a full time position requiring completion of a Bachelor's degree in Architecture from an accredited university. 

Responsibilities:
- Utilize strong graphic and design skills, and the ability to work in a fast-paced environment, on multiple projects in varying stages, both individually and as part of a project team
- Responsibilities will include all phases of design documentation through construction administration, project management and client contact

Qualifications:
- Bachelor's degree in Architecture or related field from an accredited university is required
- Working knowledge of REVIT with strong design skills
- Knowledge of other types of graphic programs is a plus
- Ability to work in a fast-paced environment on multiple projects in varying stages, both individually and as part of a project team
- Excellent communication skills
- Must be legally authorized to work in the United States for any employer without sponsorship

PGAL offers a comprehensive benefits package including medical, dental, vision, disability, life, flexible spending accounts, 401(k) and profit sharing. We also offer paid leave inclusive of holidays and PTO.

At PGAL, we believe that our employees are our future, so as well as offering in-house AXP study materials and group studies, we offer a reimbursement program for individual study materials/courses, exam/license fees and professional dues. In addition, we offer paid time off to take your exams.

If you are passionate about great design, team collaboration, and creating change in communities across the country, we want to hear from you. To apply, please provide resume and work samples with your  application materials.

PGAL is an Equal Employment Opportunity Employer: Females, Minorities, Veterans, and Disabled

PGAL is a VEVRAA Federal Contractor.

Project Architect/Designer

Los Angeles, California

PGAL is an international design firm specializing in architecture, interior architecture, engineering and planning for a diverse group of public and private sector clients. Our culture is energetic, collaborative and open and offers the opportunity to work on a wide range of project types. PGAL is an ideal place to build a career and develop skills in design, project delivery, entrepreneurship, leadership and life.

We are seeking a talented, licensed Project Architect/Designer with 5-10 years of experience who is interested in contributing to and thriving in a positive, mutually supportive studio environment.

Responsibilities:
- Responsibilities include all phases of design documentation through construction administration, project management and client contact
- Effectively demonstrate technical detailing and problem-solving skills on complex project types

Qualifications:
- Bachelor's or Master's degree in Architecture or related field from an accredited university required
- U.S. Architectural license preferred or demonstrated progress towards obtaining a license
- Must have demonstrated proficiency in REVIT and knowledge of Microsoft Office
- Must be able to manage and produce documents on multiple projects concurrently in a fast-paced environment with strong communication skills, both orally and in writing
- Must be legally authorized to work in the United States for any employer without sponsorship

PGAL offers a comprehensive benefits package including medical, dental, vision, disability, life, flexible spending accounts, 401(k) and profit sharing.  We also offer paid leave inclusive of holidays and PTO.

At PGAL, we believe that our employees are our future, so as well as offering inhouse study materials and group studies, we offer a reimbursement program for individual study materials/courses, exam/license fees and professional dues. In addition, we offer paid time off to take your exams.

If you are passionate about great design, team collaboration and creating change in communities across the country, we want to hear from you. To apply, please provide resume and work samples.

All interviews are conducted in-person as this position will work onsite at our office location. No remote work is available for this position. 

Compensation for this role is based upon experience, qualifications, location and education. Typical range is $75,000 - $95,000.

PGAL is an Equal Employment Opportunity Employer: Females, Minorities, Veterans, and Disabled

PGAL is a VEVRAA Federal Contractor. 

Location:

Los Angeles, California

Salary:

Based upon qualifications

Availability:

Immediately