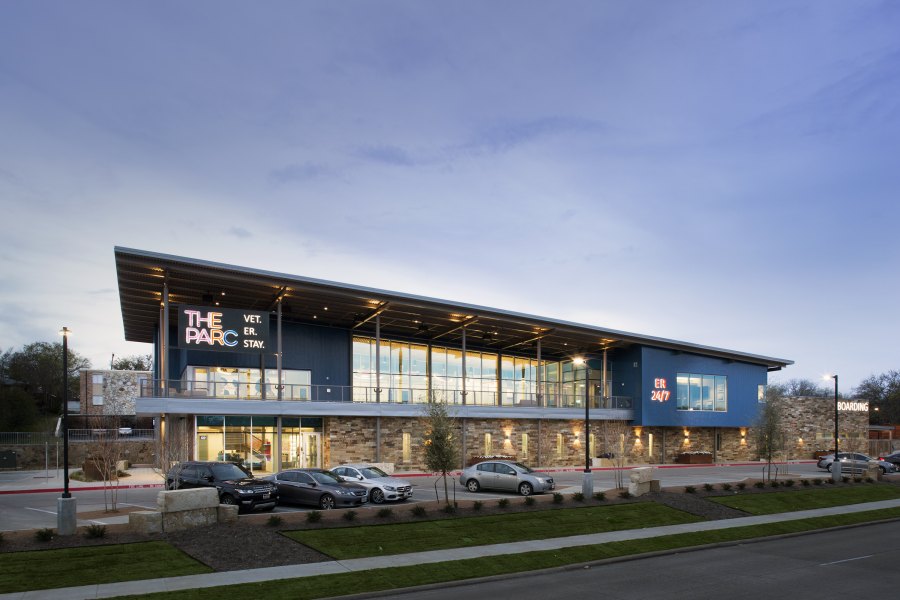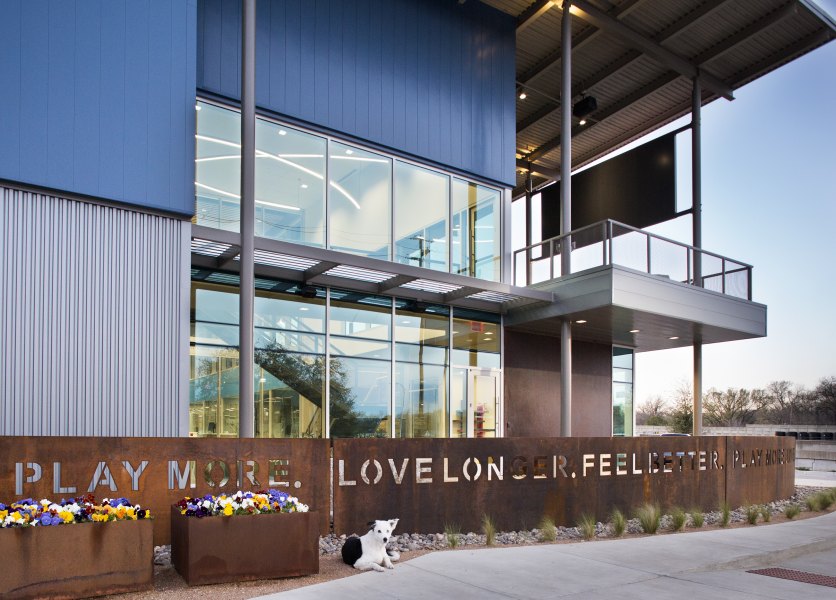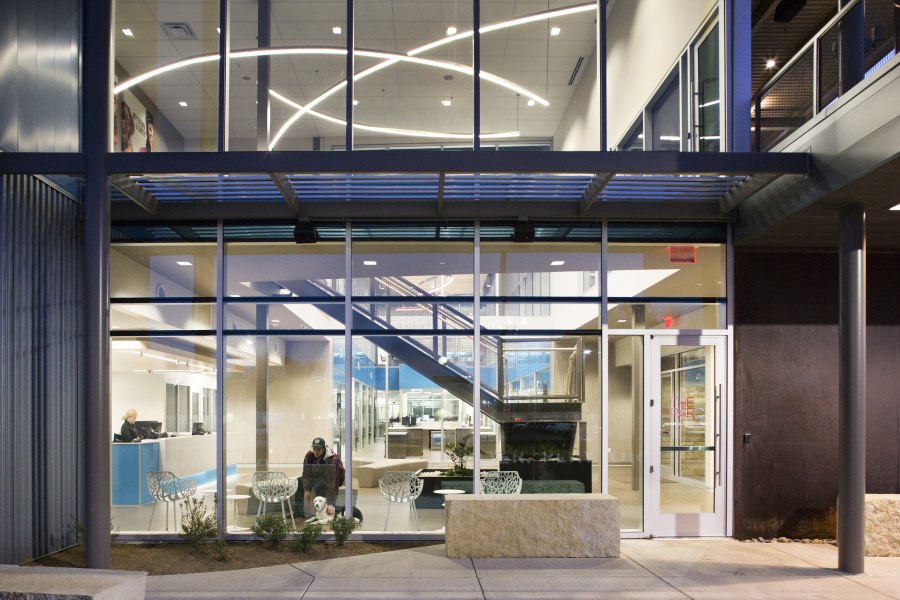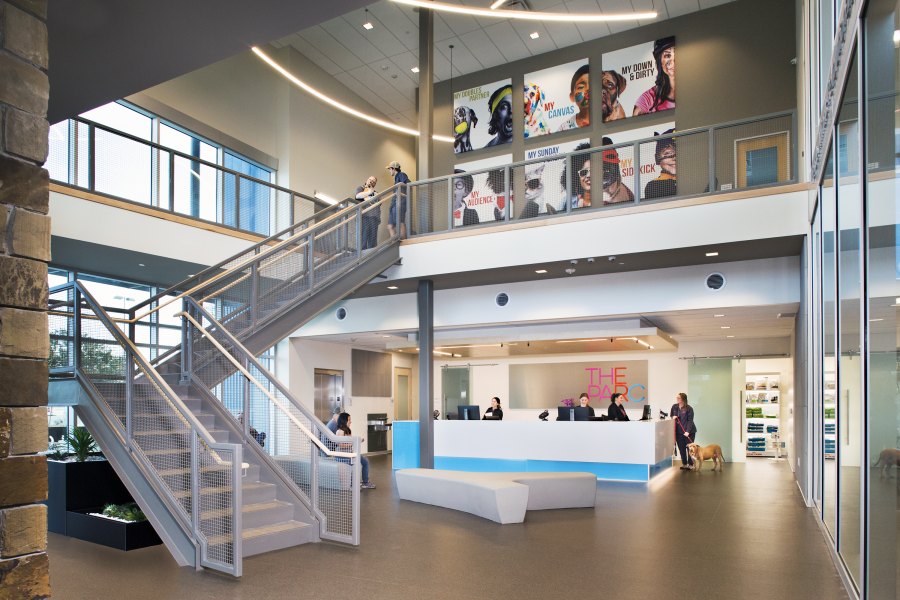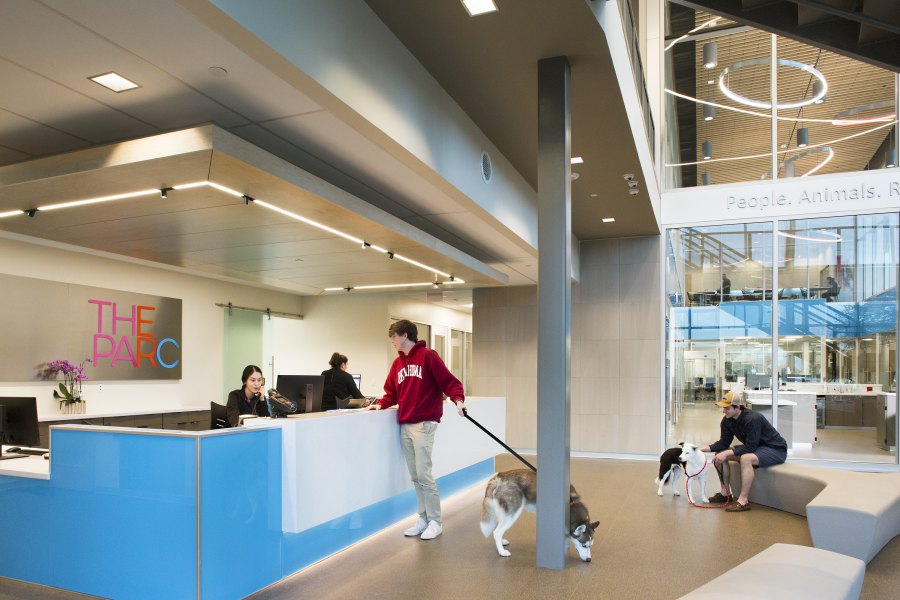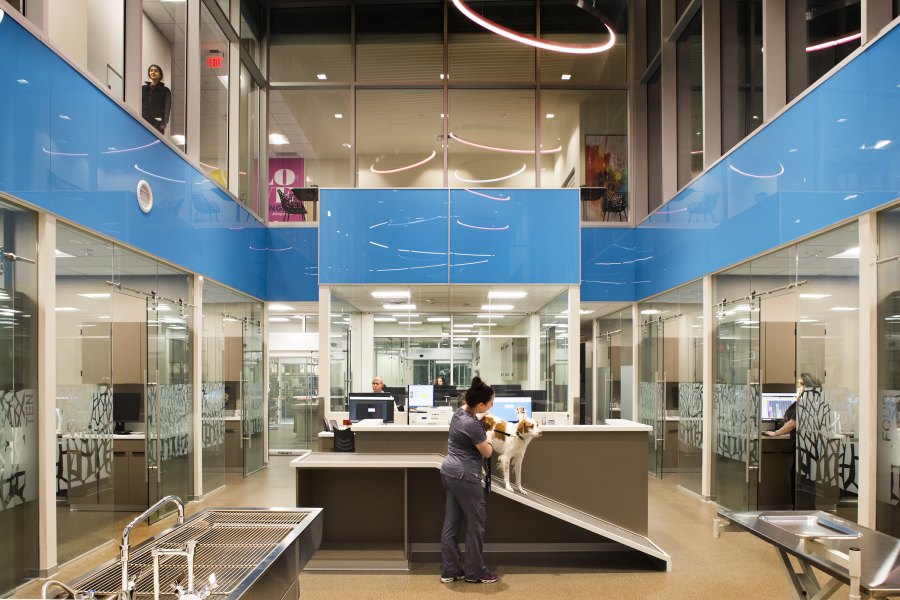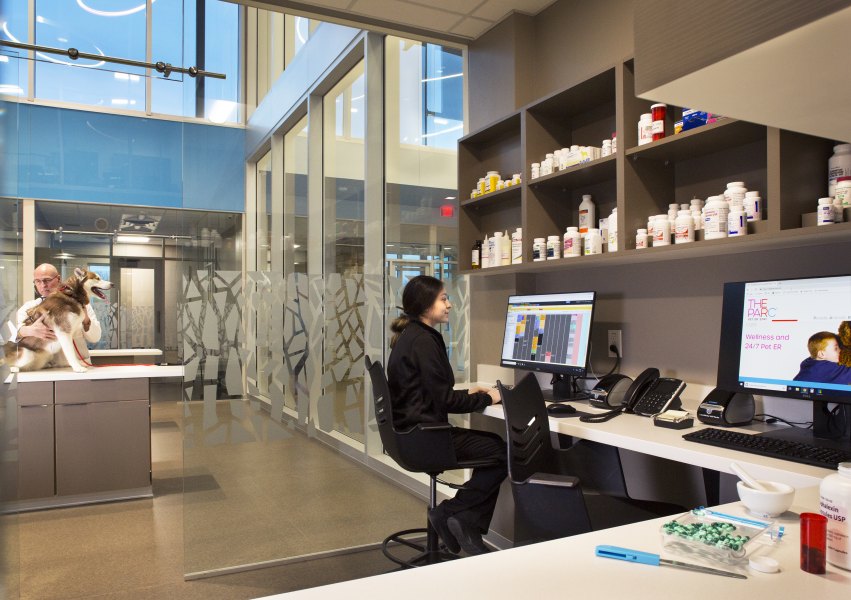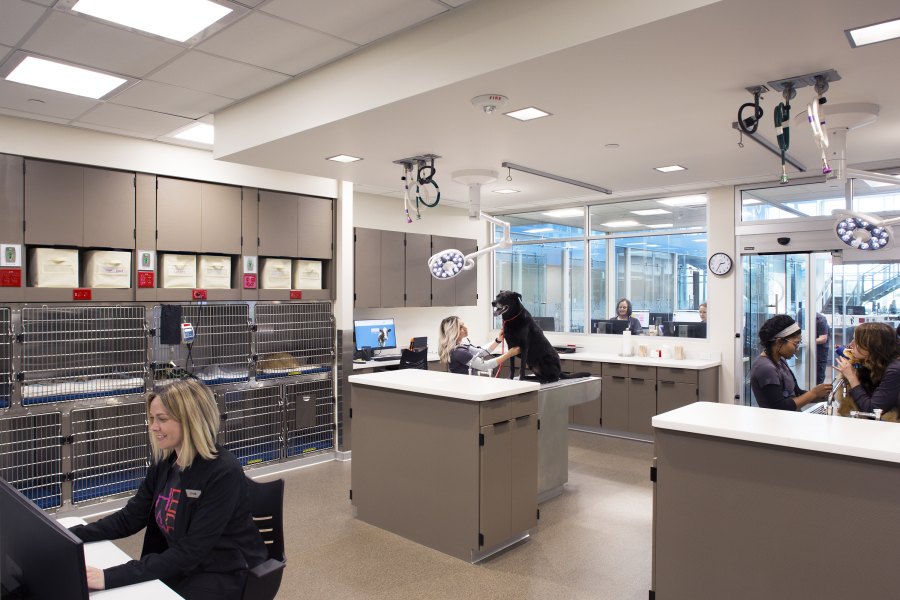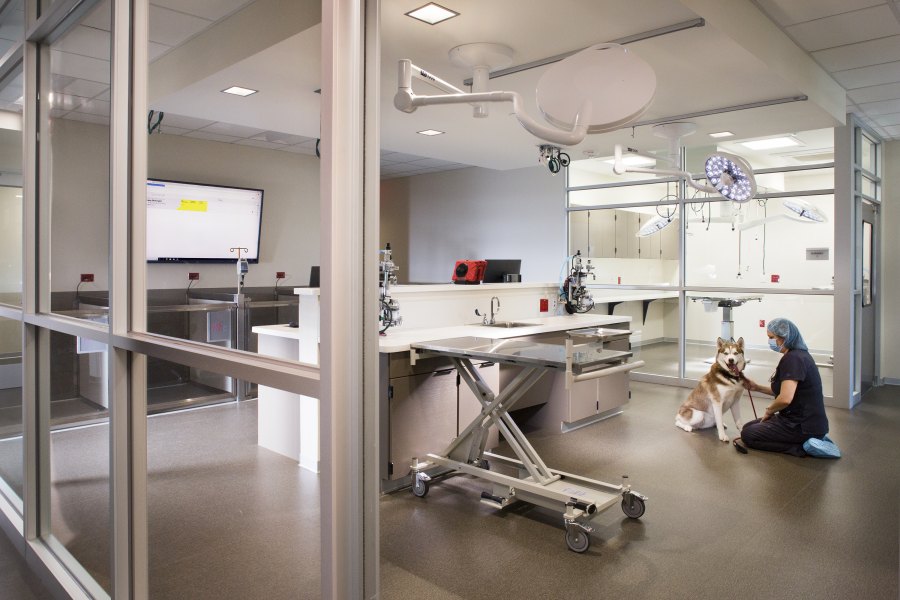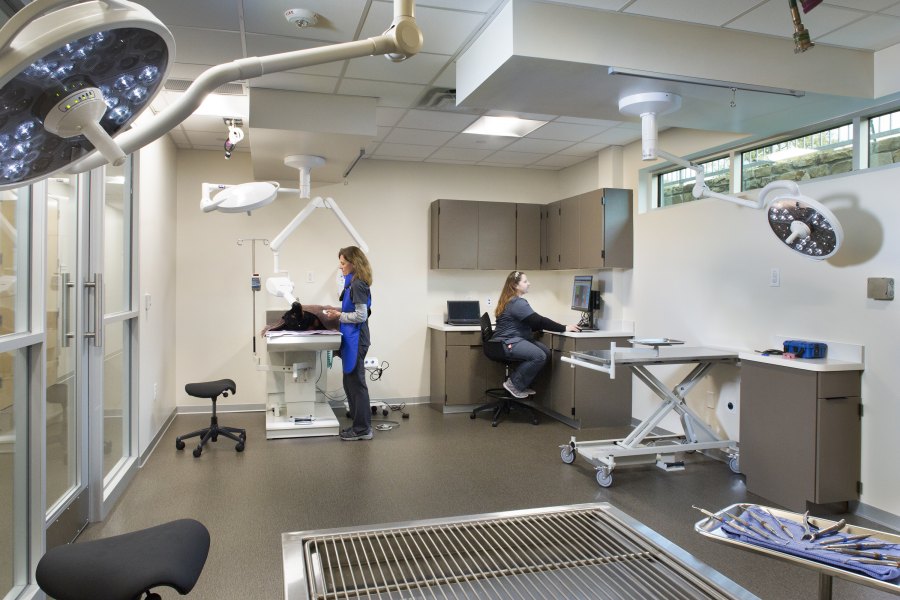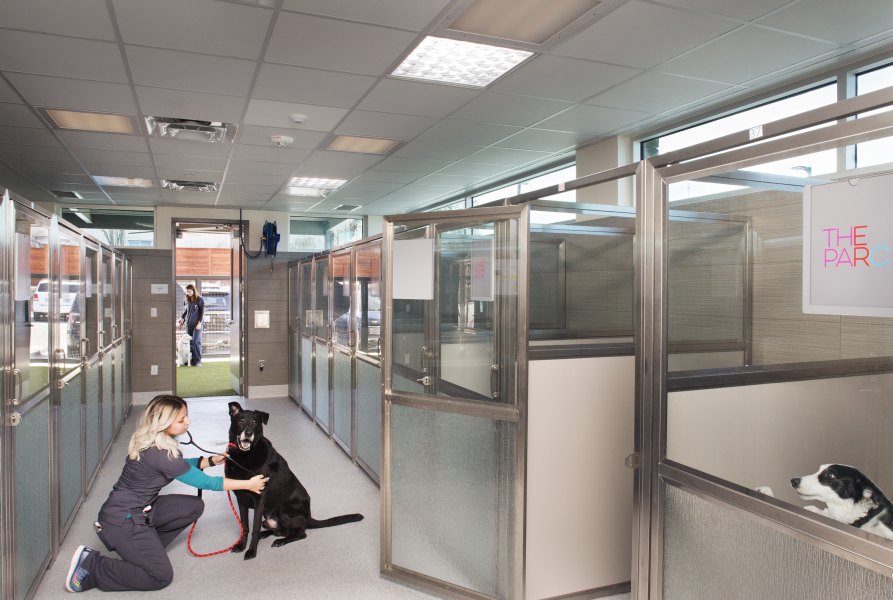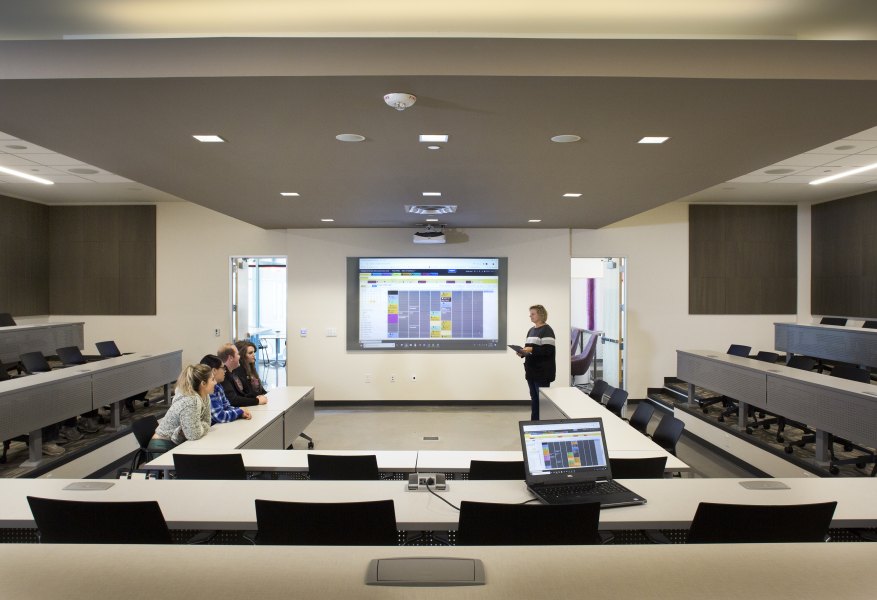 The PARC Animal Hospital
PGAL partnered with Dr. Steve Hotchkiss to help bring his vision for a revolutionary veterinarian hospital, the PARC, to reality:

P

eople first. Animals at the heart of it. Revolutionary Care throughout. 
Teaming with Dr. Hotchkiss and consulting firm Animal Arts, PGAL designed this innovative, 23,000-square-foot animal hospital located on a main thoroughfare in Fort Worth, Texas, for the wellbeing of both pets and their humans. First, to support and reassure People, the design promotes a unique "transparent" atmosphere throughout the project. From business transparency on the part of employees and partners, to visual transparency in the building design, The PARC Animal Hospital positions the humane treatment of its animal clients front and center for all to see. High performance acoustical glass encloses the facility's cathedral-height atrium and separates medical areas from public spaces, giving pet owners and visitors a firsthand view of the high quality of care the hospital provides.
Visiting animals can enjoy a dog run and comfortable cage wards separated between dogs and cats. Outdoor balconies were designed for the animals to enjoy views and fresh air while recuperating after treatment or surgery. The design includes exam rooms, an outdoor exam "room" for pets who don't like the indoors, treatment rooms, surgery rooms, and an imaging room. Boarding services are also available and include a dog boarding run, indoor relief area, physical therapy room, and a holding room.
Employee areas include a kitchen/employee lounge, a private lounge for doctors, staff lockers, and an outdoor sitting area. There are workstations for 16 veterinarians and a private office suite for Dr. Hotchkiss and the administrative staff. A training room that holds up to 50 individuals is provided for both staff meetings and seminars for patrons.
The exterior was designed with a two different scales in mind: to capture the attention of passersby on the elevated freeway that fronts The PARC and to provide a warm and inviting presence for a more human-scaled entry approach. This is achieved with bolder colors, graphics and an elevated dog play porch on the upper level, but with warm, native stone and Corten steel planters and curvilinear signage at ground level.
Features Include:
Cathedral-height, glass-enclosed atrium

Safe outdoor balconies for recuperating pets

Visual connectivity between pet and owner spaces