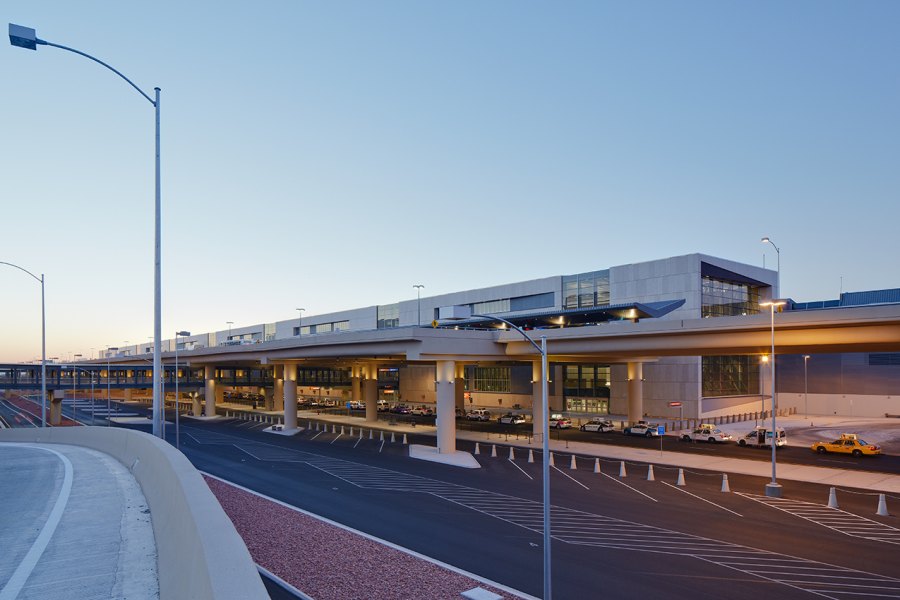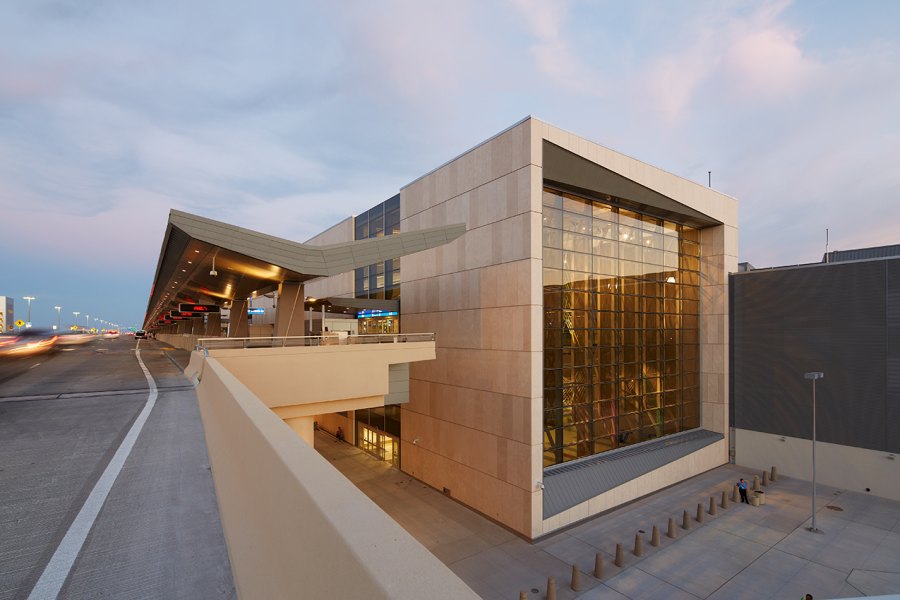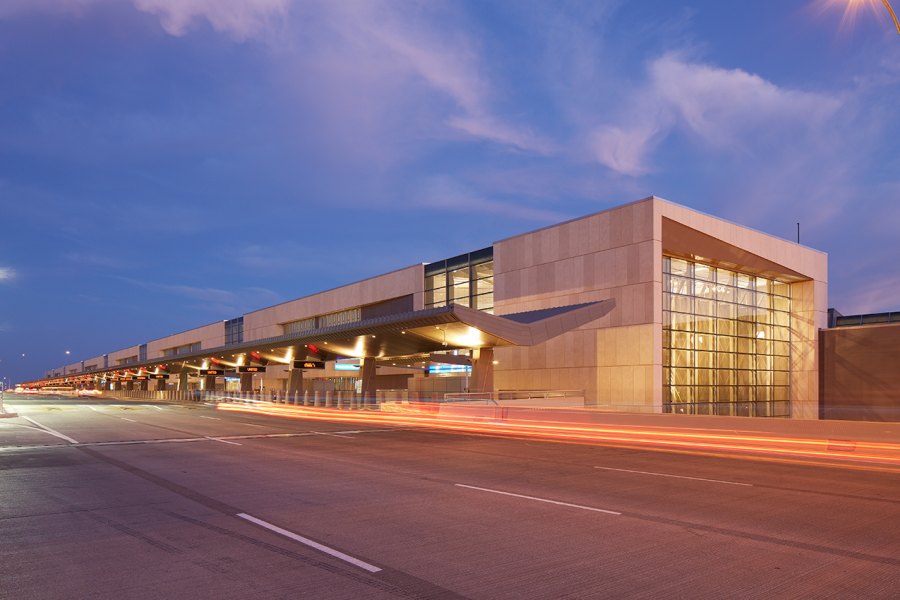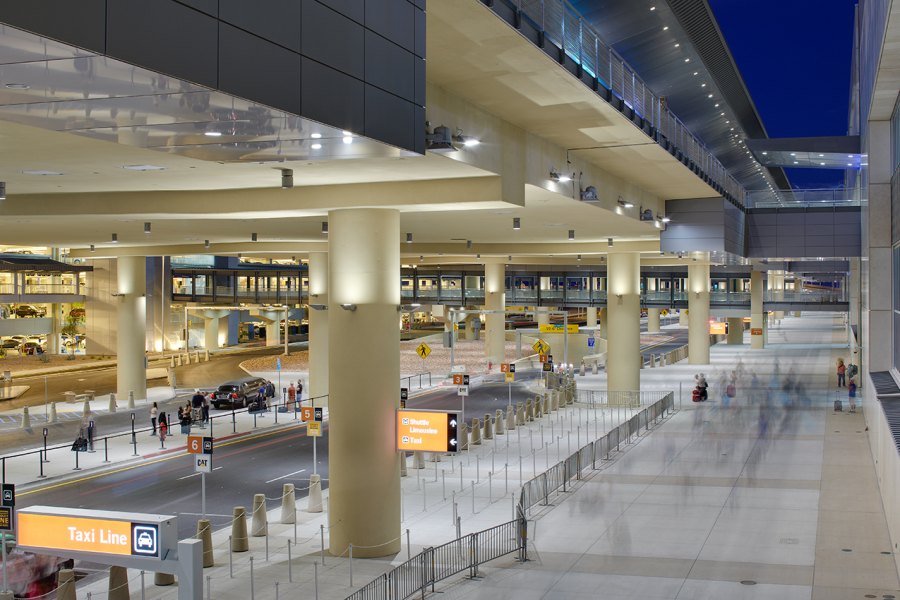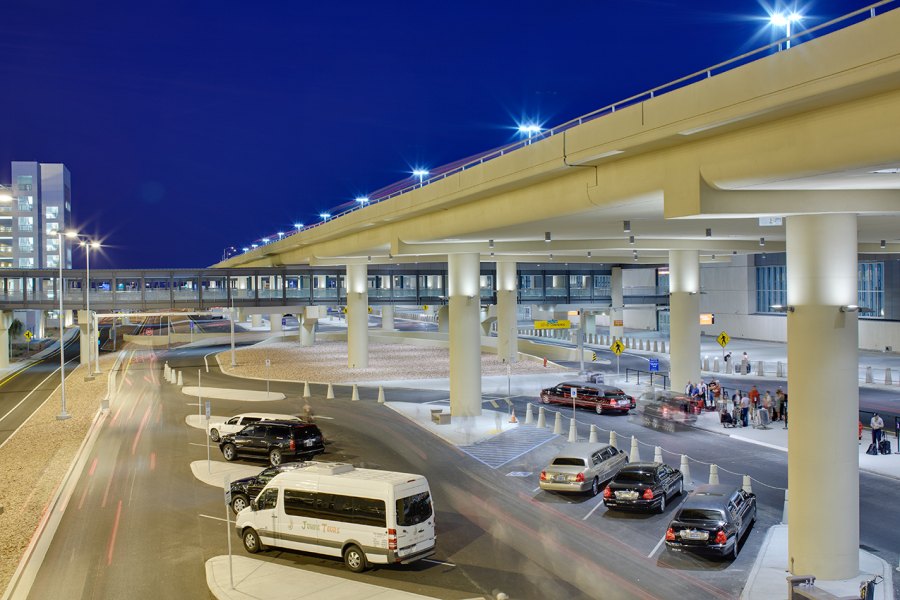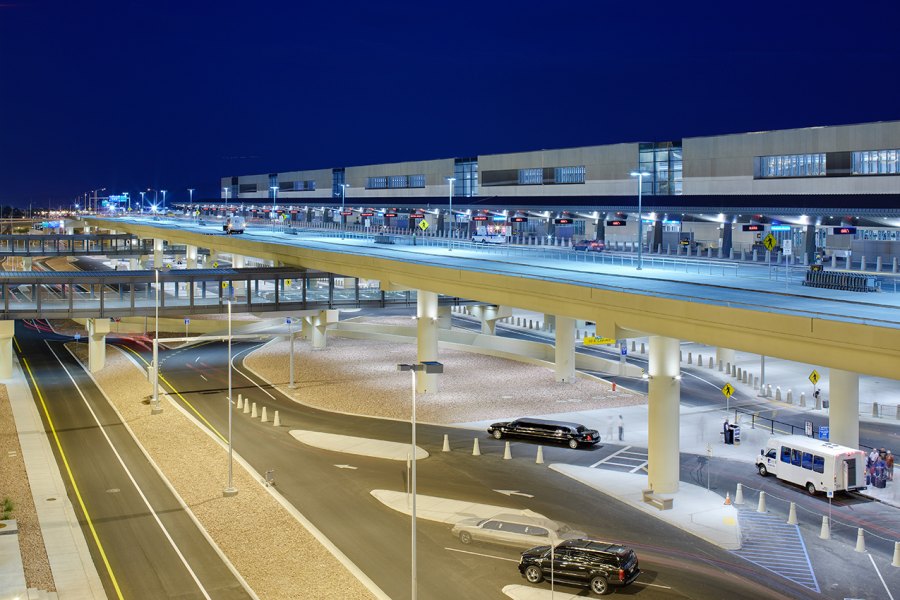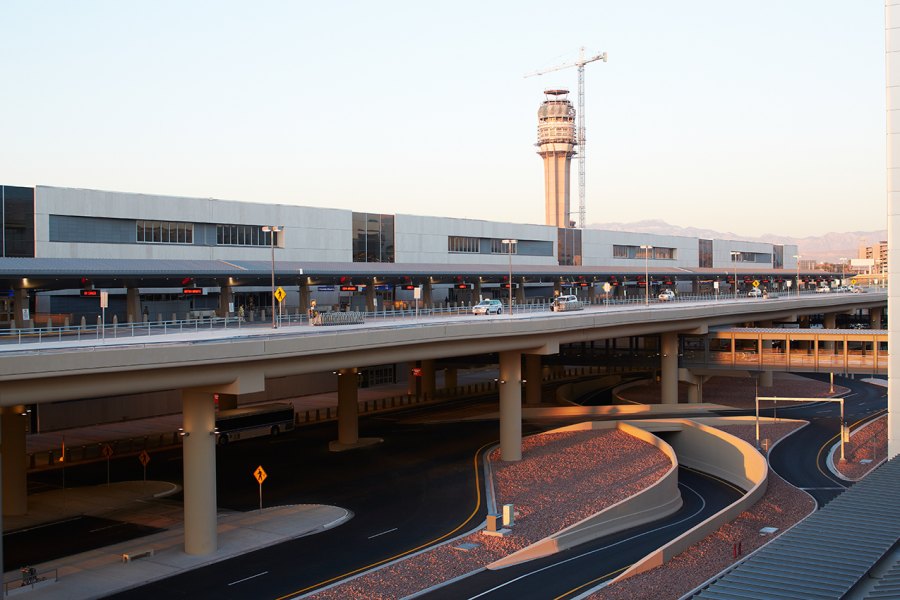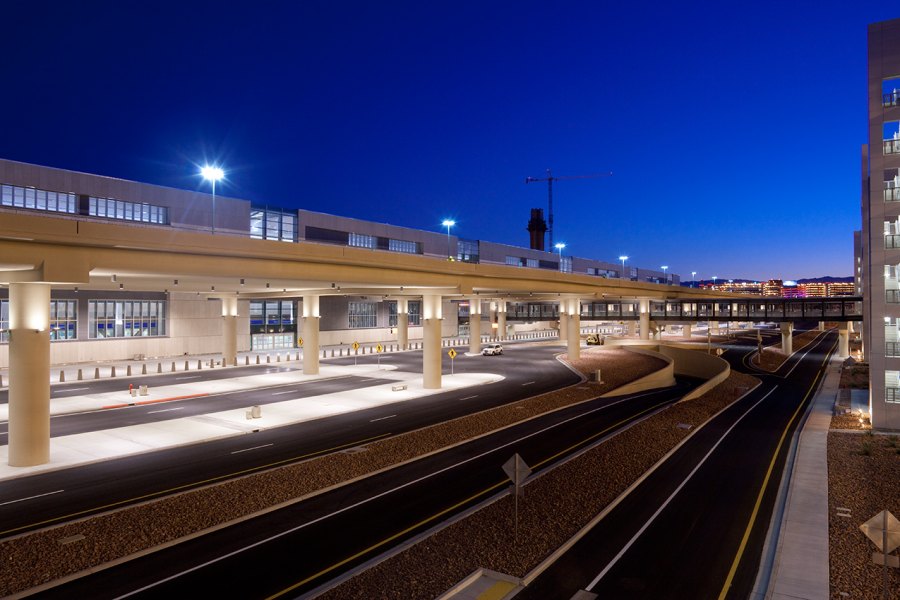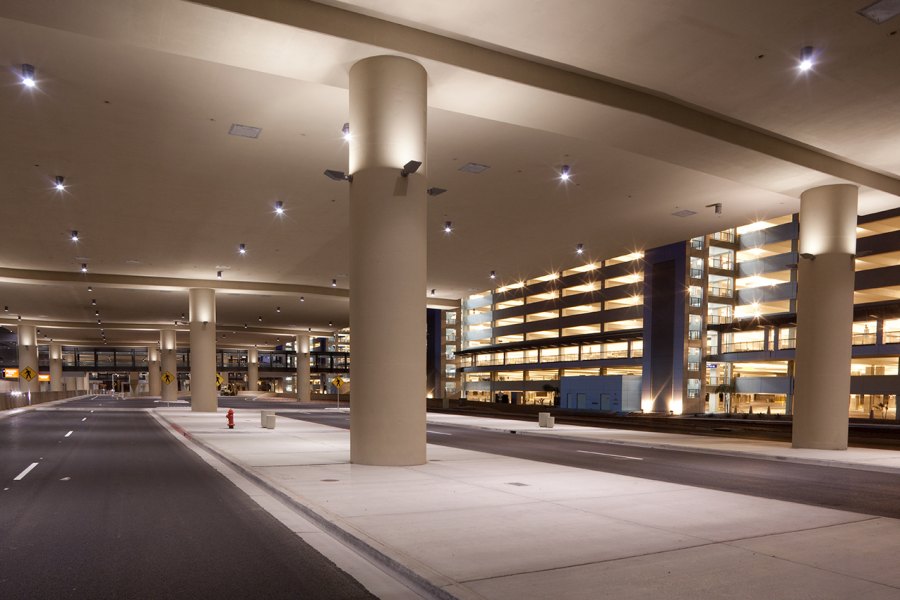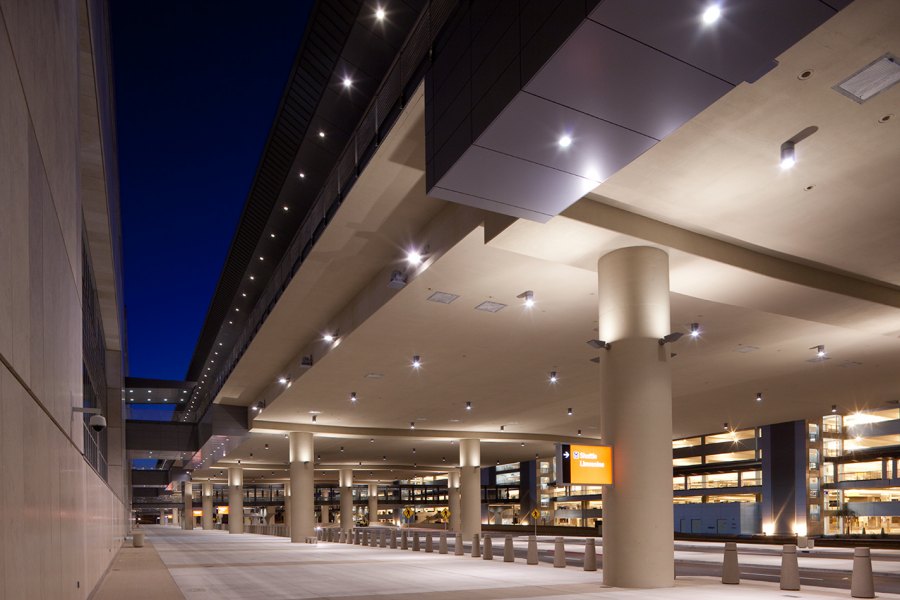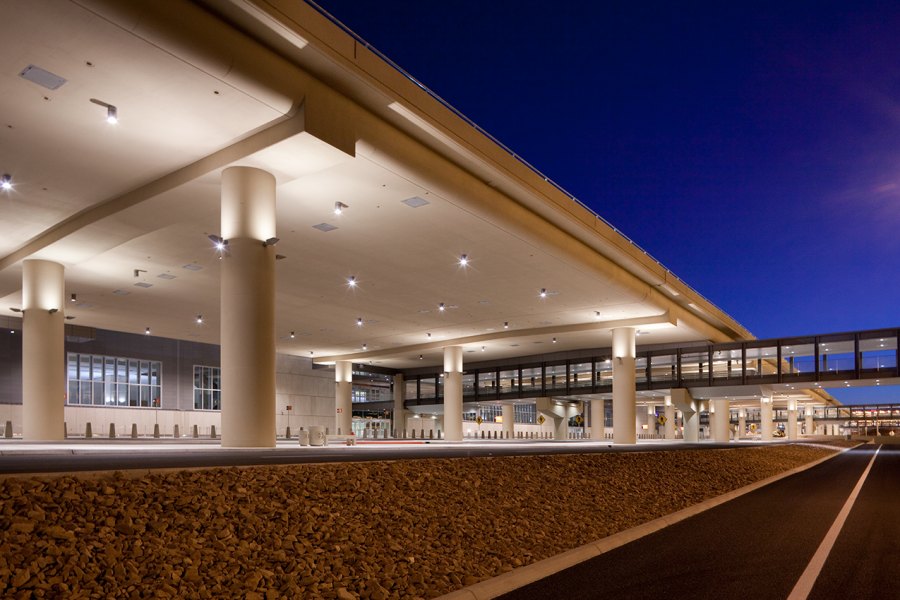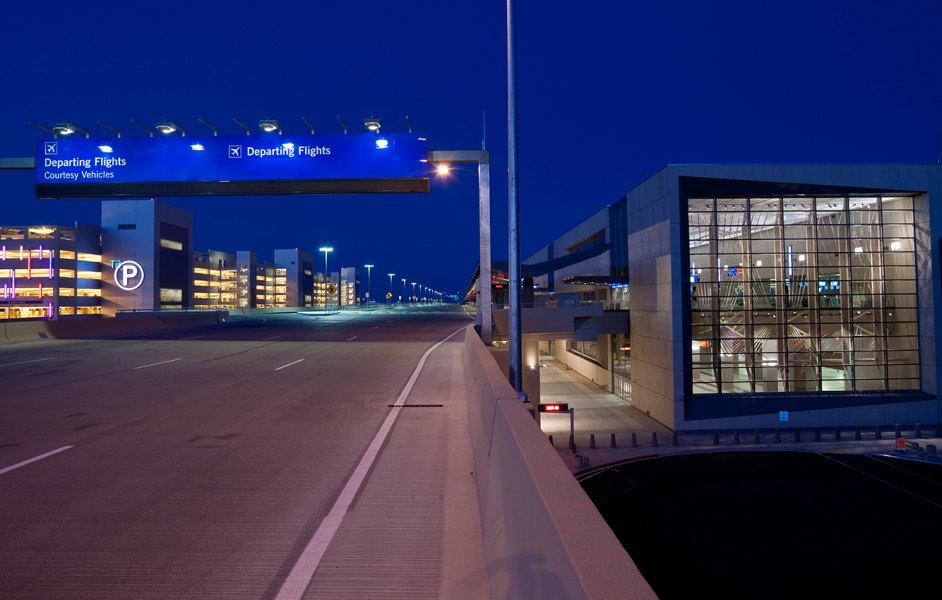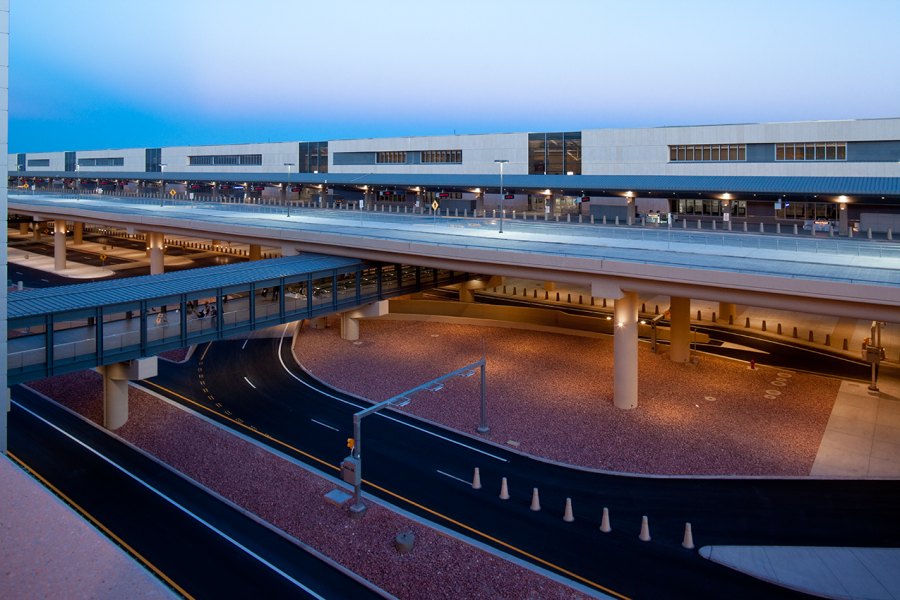 Terminal 3 Departures Level Bridge at Harry Reid International Airport (LAS)
PGAL planned, designed, and provided construction administration services for the 13-span bridge that serves the departures level of Harry Reid International Airport's terminal building.
This project was a true fusion of architecture, building, site, and bridge design. At 1,600 feet long and 146 feet wide, the massive structure mandated special considerations for architectural charm, pedestrian comforts, vehicle flow, and ADA accommodations. The bridge also needed to accommodate limo and shuttle parking, illumination, water control, and an extensive baggage conveyor system.
The baggage conveyor system starts on the top of the bridge deck and continues through the deck. PGAL provided an eight-and-a-half-foot cantilevered overhang for ladder and conveyor access, and hung the conveyor and platforms from the underside of the bridge. The departures-level pedestrian bridge spans from the building to this new bridge.
For pedestrian comfort, PGAL provided more than 1,400 lights throughout the structure, illuminating the bridge deck, roadway below, bridge soffit, and ground level sidewalk. The team also added 40 canopy anchorage points at curbside check-in to provide shade for pedestrians.
The center island sidewalk is connected to the curbside check-in sidewalk with eight raised crosswalks that serve as speed tables. At passenger drop-off, PGAL provided eight accessible van spaces with ADA ramps, and 260 bollards with lighted bollards at the crosswalks.
With the bridge planned in a seismic zone, PGAL used CALTRANS details to design a cast-in-place, five-foot-deep, 15-celled, post-tensioned box girder system. Bents consisted of three 33-foot-tall, six-foot diameter columns on single eight-foot diameter drilled piers up to 81 feet deep. PGAL performed a finite element analysis and response spectrum model for post-tensioned caps, seismic loading, and displacements.
Features Include:
Eight-and-a-half-foot cantilevered overhang for ladder and conveyor access
More than 1,400 lights throughout the structure
40 canopy anchorage points at curbside check-in