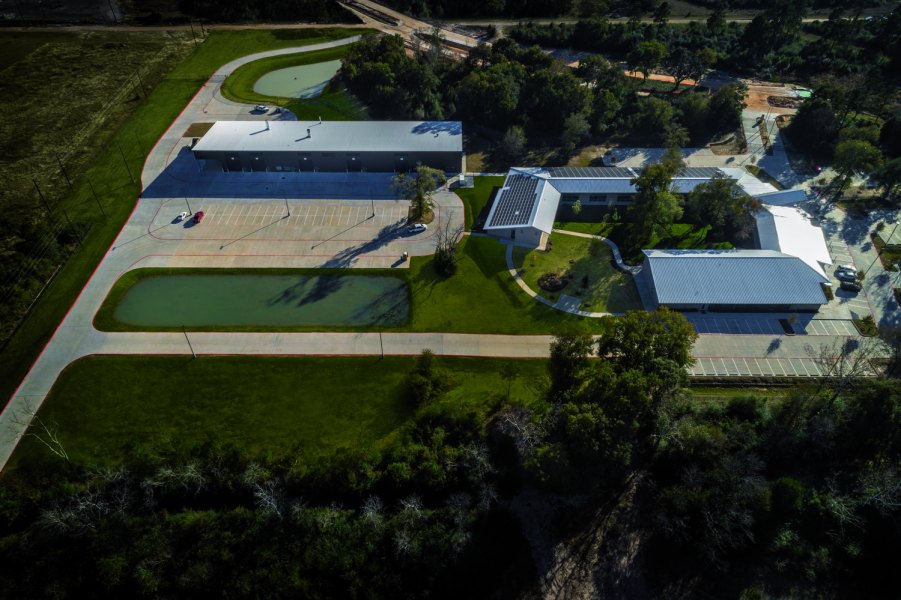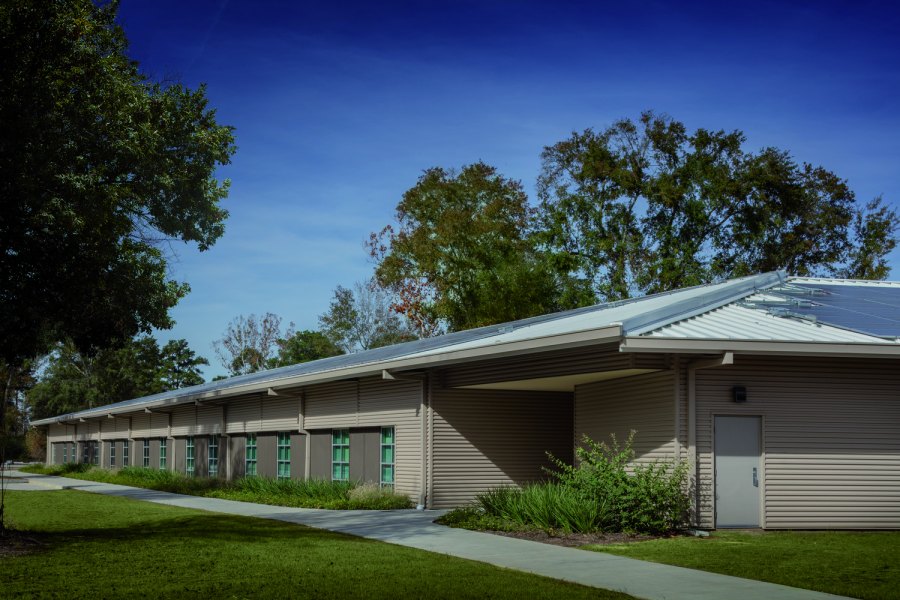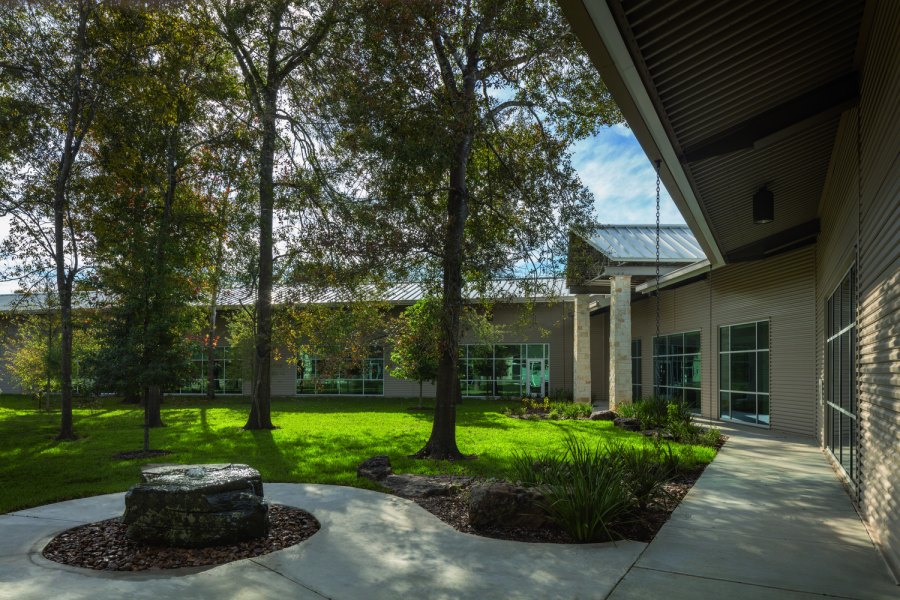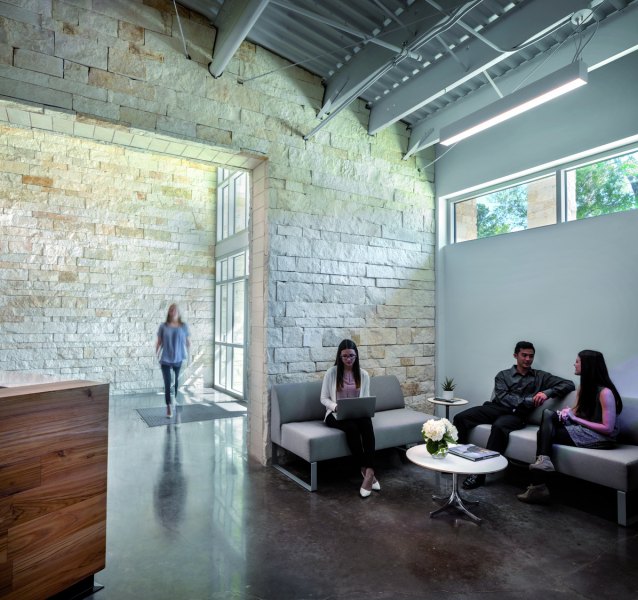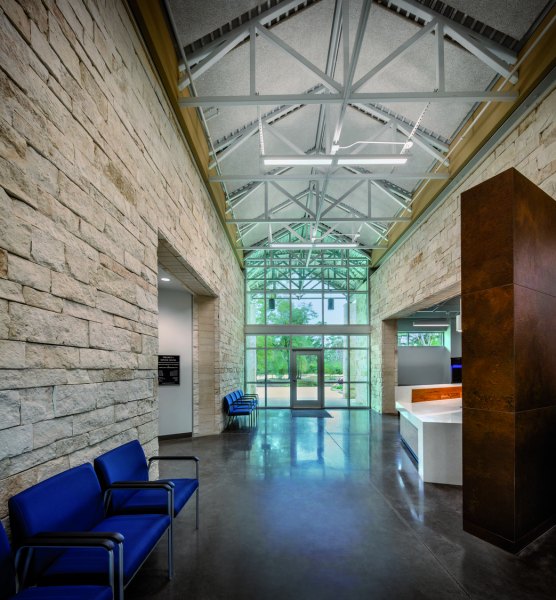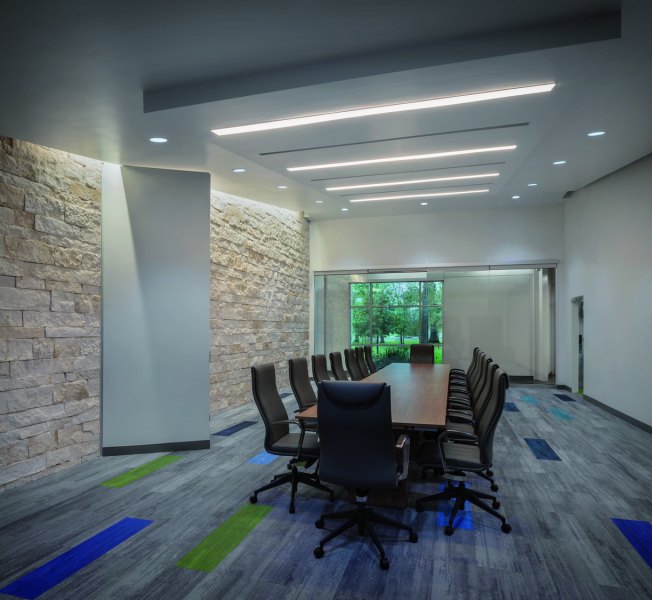 Harris County Precinct 4 Service Center
The new Precinct 4 Service Center project includes a 31,000-square-foot, single story Administration Building, 28,000-square-foot Warehouse Shop with three self-contained paint booths, covered equipment parking, and a diesel/gasoline fueling station.
The Administration Building houses a total of nine precinct departments; the building is organized to promote team unity and common goals amongst the precinct staff, which is reflected in the five-faceted plan organization around a central courtyard. At the main building entrance, guests are greeted with a two-story gabled roof which then immediately opens to the courtyard beyond. The primary reception area incorporates Texas limestone on the interior walls within a high sloped, open structured ceiling with clerestory windows, providing abundant natural light. Once inside, most areas within the building have a direct view to the courtyard which includes several large, preserved trees and other natural elements and vegetation.
PGAL also led the design for Phase 2 of this project, an expansion of the Service Center to incorporate essential facilities for the Precinct's Road and Bridge Maintenance Team. The work included expansion of the site development while maintaining the overall low impact development approach. The buildings added during this phase include a single-story enclosed Vehicle Maintenance Shop; single-story open Vehicle Storage Shelter with wash bay and locker facilities; 10-bay and 12-bay open Vehicles Shelter and Storage Building; and a High-Water Rescue Vehicle Shelter.
All Phase 2 structures were designed as pre-engineered metal buildings (PEMB) to match the Phase 1 Warehouse Shop. The project also includes a public transfer station for receiving materials to be recycled and storm debris.
Features Include:
Net-Zero project that includes photovoltaic panels (solar panels), geothermal energy system, and low impact development (LID)

Courtyard that maintains most of the site's natural features, allowing for natural landscape buffers and the preservation of several mature trees

Open office concept that provides a direct connection to the courtyard and all departmental functions

Two-story high, local Texas Limestone wall in the main entrance that connects guests with the courtyard

Vehicle maintenance and storage facilities designed for large and high-water rescue vehicles